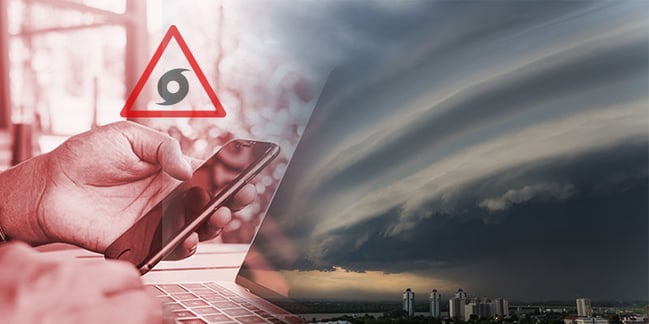 The National Oceanic and Atmospheric Administration (NOAA) has predicted a 60% chance of an above-normal Atlantic hurricane season for 2021. This year, it is expected to have between 13 and 20 named storms (winds of 39 mph or higher), 6 to 10 hurricanes (winds 74 mph or higher), and 3 to 5 major hurricanes (categories 3, 4, or 5; with winds of 111 mph or higher). Considering the above forecast, businesses and organizations must promptly craft their hurricane preparedness plans and adopt a modern emergency communication solution.
Effective communication before, during, and after a storm is a powerful way to ensure employee safety and business continuity. This is fundamental to fulfill the legal responsibility of creating a work environment that protects workers exposed to severe weather conditions and other threats.
Interestingly, and as a result of the pandemic, the traditional job structure has dramatically changed. Today, nearly as half of all employed adults work from home, and although it generally offers personnel greater flexibility, improved work-life balance, and less stress; for organizations, it means new communication challenges and business continuity concerns.
Duty of care, however, must be recognized, particularly during an active hurricane season. Businesses and enterprises have an obligation to keep their people safe while at the workplace, regardless of where that might be. An important step is to acknowledge the role of good communication to respond to a crisis and implement an advanced mass notification system able to reach the right people, at the right time, with the right message.
Besides being able to reach as many people as needed when disasters strike, these are some key features companies need to look for in an emergency notification system:
1. Multiple ways to communicate
To ensure notification delivery, messages should be disseminated across all available communication channels, such as text (SMS), email, phone calls, mobile app push notifications, and any other channel relevant to the organization.
2. Target the right contacts
Create an unlimited number of contact subgroups to target the appropriate audience during an emergency, which ensures employees outside the hurricane area will not be sent irrelevant notifications, and only staff in danger will receive critical alerts.
3. Automated emergency warnings
It is important that the emergency communication system is integrated with the National Weather Service and FEMA Integrated Public Alert and Warning System (IPWS) to automatically generate warnings and send them to the right people.
4. Interact with the audience
Being able to know the status of employees during a hurricane is crucial. With two-way communication systems, staff can inform leaders if they are still in danger and need assistance.
Hurricanes can be a major threat for organizations; therefore, planning for this type of potential disaster is necessary to keep employees safe. Part of a solid plan includes a potent mass notification system to help entities move fast, mitigate risks, limit property damage, and prevent avoidable financial losses.