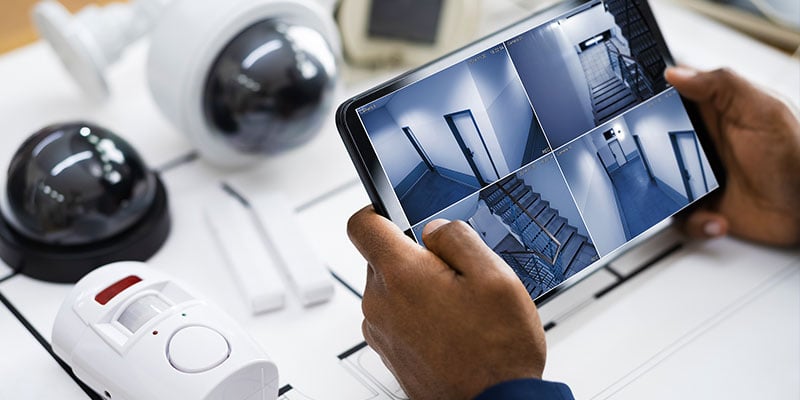 Security is a hot topic in today's ever-changing world. As technology advances, the threats against businesses have become more complex and sophisticated. As an IT leader or Director of Security, you have two options: do nothing because it seems like too much work to select the right security system for your company or put in the time to make sure that you are selecting the best possible option for access control, video surveillance, alarm monitoring - and all other aspects of your integrated commercial security system.
Commercial security systems can vary greatly by complexity, cost, and features. This article will focus on the key considerations and questions to ask when selecting a security system that suits your business requirements.
The first thing to consider is access control: do you need card readers? If yes, then what type of credentials are needed - cards, fobs, or access via a smartphone app? What about access control through biometrics, such as fingerprint scanning?
Regarding video surveillance: what type of camera are you looking for - fixed or pan/tilt? What resolutions do they need to be at and how many cameras should there be in total? Do you want access control on the video system too (for instance, with access card readers)?
And on alarm monitoring: do you want access control for the alarm system, too? How many sensors should there be in total and what type of sensor (proximity or motion)?
Access Control
Here are five important questions to help you find the perfect access control system for your business.
Does access control need to be flexible?
What is the business' budget for investments in equipment and installation?
Do we have a forecast on how many employees will use access cards or badges in the next year, three years, ten years?
What level of access control do we need to maintain for each door and entranceway?
Who will be responsible for maintaining the security system and employee database in our facility or data center?
The right answers to these questions are different from company to company. The best thing you can do as a leader is to define your company's needs to help select the right access control for you, with the help of a professional security systems integrator.
Video Surveillance
Video surveillance is one of the most common security systems in use today, due to its ease and effectiveness. There are a variety of tools that can be used for video surveillance including bullet cameras, dome cameras, Infrared/Night Vision cameras, IP cameras, and PTZ's, to name a few.
Video surveillance cameras provide a high level of security for businesses. Video footage captures and stores images that can be used to identify individuals or vehicles, as well as monitor access control points. These are just some reasons why video surveillance is one of the most effective methods for deterring crime in public areas like parking lots and access roads.
Here are five important questions that should be asked before selecting which video surveillance solution is right for your business:
What are the specifications I need from my security system?
This question is key because it will help determine what features your surveillance system needs to have, such as audio recording and analytics packages. Your IT department or a third party can recommend which one they think would be best based on your needs.
What are the security requirements for my industry?
This is a question that should be answered by your Director of Security or someone from Operations to determine what type of surveillance system would best suit you and comply with regulations. You may need something that meets certain regulatory standards, such as video verification logs in addition to your surveillance system.
What is the cost of my security solution?
This question should be answered by someone in Operations because it will help determine if you can afford to purchase a new one or not, as well as what level of budget and features are available at different price points. You'll also want to know what the ongoing maintenance and licensing costs are. Cloud-based video solutions have lower upfront costs but do have higher ongoing licensing fees to consider.
This question should be answered by someone in Operations because they will help determine which one of the many different levels of features you can afford, as well as how much your annual repair and upkeep cost may be. Your IT department or security expert from outside your company may also be able to help with this one.
What level of service am I comfortable providing to internal stakeholders?
This question should be answered by someone in Operations because it will enable you to determine who can provide security for your business, such as a third party or internal staff. The answer will depend on the level of service you're comfortable providing, such as how often surveillance footage is checked.
Alarm Monitoring
An alarm monitoring system is the primary line of defense for any company. It sends notifications when an access control breach has occurred or a security event that warrants attention occurs. Alarm systems can be either hardwired (coming from the existing physical access management and intrusion detection system) or wireless, with a battery backup in case there is a power outage.
With access to real-time alarms, management can be alerted and act as soon as an incident occurs. Alarm monitoring systems are a critical component of any security system with limited resources available for physical protection. If you have questions about alarm systems or would like assistance selecting the right one, please contact us via this link.
Taking the Next Step
Every business needs access control, video surveillance, and alarm monitoring. But which ones are best for your organization? And how do you know if the system is right for you? Here are five tips that can help make sense of it all:
Select a security company with expert personnel who have been in the industry for years and who have access to the latest, non-proprietary technology.
Get a quote before selecting a commercial security company so you know what your budget is and what services are available for that price range.
Make sure the company has experience with the small, medium, or large companies in your industry.
Consider how many employees will be on-site at one time, how many access points are needed, and where the access points should be located.
Ask if there is an on-site monitoring center available. This will allow you to see what's happening at your company in real-time from anywhere with Internet access.
Once all of this has been determined, it's important you make sure the security system is installed correctly. That's why you should hire experts in access control, video surveillance, and alarm monitoring to get the job done right the first time.
Robert Chamberlin
Rob Chamberlin is the founder and President of Security 101 – San Francisco Bay Area & Sacramento. Security 101 offers a full range of commercial security professional services to its business customers and helps to protect its client's people, ...