Hampton Roads
Norfolk, Virginia



Protecting
People, Property & Profits
Security 101® is nationally-recognized as a leader in the security industry and viewed as one of the fastest growing commercial integrators in the US. From system design, engineering, and installation — to servicing electronic security systems, Security 101 offers a full range of services to our clients. Our business systems, specialized business operations software, and extensive training allow us to deliver the highest quality security systems and positive customer experiences.
As a true systems integrator, Security 101 is the only call you'll need to make.


"Complete" design & engineering
Intercom & tele-entry systems
Mass notification systems
Visitor management systems
Intrusion detection systems
Unique software solutions for market-specific security challenges
Security system integration (video, access control & intrusion detection)
Extensive Service Portfolio
Security

Reimagined

A comprehensive, purpose-built security environment is essential for businesses of any size to thrive. By partnering with Security 101, we can create an intelligent and integrated system that incorporates advanced video, access control, alarm monitoring, and visitor management solutions to help you maximize safety, efficiency, and productivity and detect and mitigate threats on time.
Our National

Strategic Partners

Hampton Roads – Norfolk, VA - Our local team is comprised of seasoned security professionals who are ready to handle any size commercial electronic security systems project or service needs you may have. At Security 101 our expansive network of industry talent is deep — and our unique business model allows for every team member to stay connected. Here's a few key TEAM101 members in your local area. Get connected, follow us on Linkedin® and join the conversation. Our dedication to security excellence is second-to-none and we are ready to start earning your trust today.
Bill Lenz
Branch Manager


Branch Manager of Security 101 – Hampton Roads, Bill Lenz, has been in or around construction over the past 35 years and designed projects coast to coast. He began his career as a Naval Nuclear Reactor Operator (ETN); after two deployments, one to the Red Sea for Desert Storm, he found his calling in structured cabling solutions, networking, and security. Holding degrees in Electronics and Nuclear Engineering from TESU, Bill used his skills in electrical, HVAC, temperature control, networking, paging, KSU/PBX/VoIP systems, optical fiber, cameras, and recorders that were analog before migrating to digital, access control, and inside plant/outside plant (ISP/OSP) copper/fiber systems from residential to industrial, and commercial to government.
Vertical markets include healthcare, multi-dwelling units, hotels, assisted living, SLED contracts, private and public K-12, retail, industrial plants, and Class A office spaces. Bill has held roles from technician, foreman, estimator, sales engineer, account executive, project manager, business development, VP of Operations, VP of Sales, and business owner to BICSI Tech, RCDD, and CT (Certified Trainer) for both the Installation Courses as well as the Design Fundamentals. Always willing to assist clients, Bill continues to learn the ever-changing dynamic integrations in access control, security, structured cabling, video surveillance, and visitor management.
Local

News
Stay informed!


Discover something new.

Find informative articles relevant to your location and read about local security news, announcements, updates, and local security events that matter to you and your business.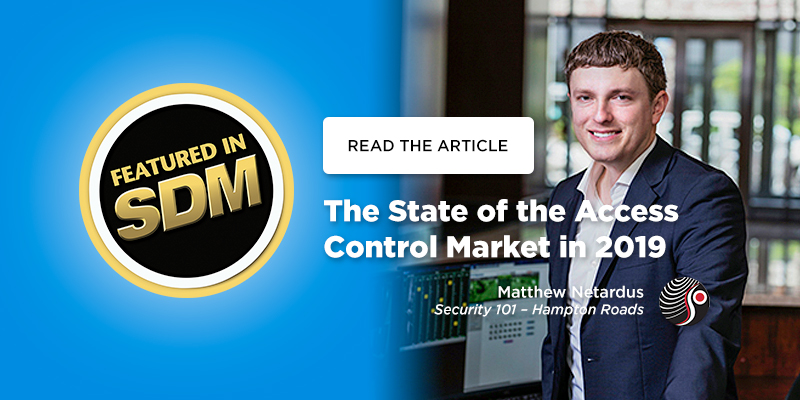 Security 101's Matt Netardus lands cover of June 2019 SDM Magazine
Security 101® is not too proud to brag. One of our star sales & operations team...
Read More
Security 101® Careers
Hampton Roads
Being a part of TEAM101 has a special meaning to our dedicated personnel. At Security 10®, we are continuously seeking qualified, highly-motivated individuals who demonstrate our guiding principles of fanatical customer service, integrity, and fun. Grow with us and thrive within an organization dedicated to excellence.
We are actively seeking top talent for the following position(s):
Let

'

s

work together

!

Join us on our gratifying journey of service, innovation, and expansion. Explore our fulfilling career opportunities and take your calling to the next level.