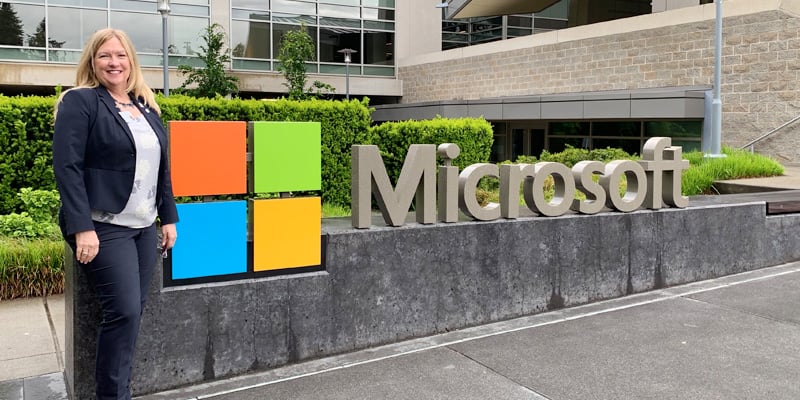 Security 101's very own Susan Hunter, of the Hampton Roads (Norfolk, VA) office, attended the Wo/Men in Security Leadership Summit held in Bellevue, Washington on Microsoft property. With sponsors such as Amazon, Boeing and Facebook, Security 101 was in good company, and this was an event not to be missed!
This day and a half long event is Wo/men in Security's mid-year conference. The mission of the summit is to bring together people who are passionate about women in leadership, by fostering collaboration and support. Typically, they have around 20-30 attendees, and this year's summit saw almost 300 attendees!
We spoke to Susan Hunter to get the rundown and here's what she had to say about the summit: "Microsoft's facility was incredible, and they had a good breadth of coverage with the speakers they put together. Amazon, LinkedIn, and Microsoft were all well represented there, as well as a local presence and people who are not in security and ASIS. It was nice to open up the event to these people to give them a taste of what Wo/Men in Security stands for; this was beneficial because it hit all three of our pillars, which are to support, inspire, and promote women in non-traditional roles in security. This conference really helped raise awareness, bringing people together to hear about women who, for example, did 22 years in the FBI, or the #2 woman at Amazon—stories about how they got there. This was especially beneficial for women who are newer in the industry. It was good for everyone to hear the path is not as hard as you might have thought, even if you don't have this background." Susan feels that was the key takeaway from this years conference: hearing 4-5 different sessions with the common theme being 'I didn't take a traditional path into security and I'm succeeding'. It was about women telling about their paths to success in the industry, while not necessarily intending to pursue it, but once they got into it, found they could be successful at it.
Susan also noted that many of the Wo/Men in security council members were there, and got to spend real time together getting to know each other, which strengthens them all in moving forward. In addition, by utilizing 'connections nearby' on the LinkedIn app, she was able to add a lot of great contacts, in real time, who were in attendance. For her personally, the highlight of the summit was the keynote speech by Carletta Ooton, the Vice President of Health, Safety, Sustainability, Security and Compliance at Amazon.
When asked what are some of the upcoming trends we can expect for this and next year, her response was "I think the next trend you're going to see with this summit will be bringing a male next time, sort of a Sadie Hawkins type thing, to see real change and have an equal share and foot in the door. It's an interesting perspective that we can sit and talk about how to support other women, but there is a lot of men who will do the same thing. Mentoring and sponsorships are important, and don't be afraid of that. That will gain some momentum based on this event."
We won't spoil next year, but Microsoft expressed great enthusiasm hosting again in 2020, although another huge global brand may fight them for that honor… stay tuned! We will be sure to provide coverage and get the low down from our leading lady Susan. To learn more about Wo/Men in Security and how they provide assistance and support to women in the security industry, follow them on Facebook, Twitter and visit them here.
To connect with Susan, find her on LinkedIn: Susan Hunter