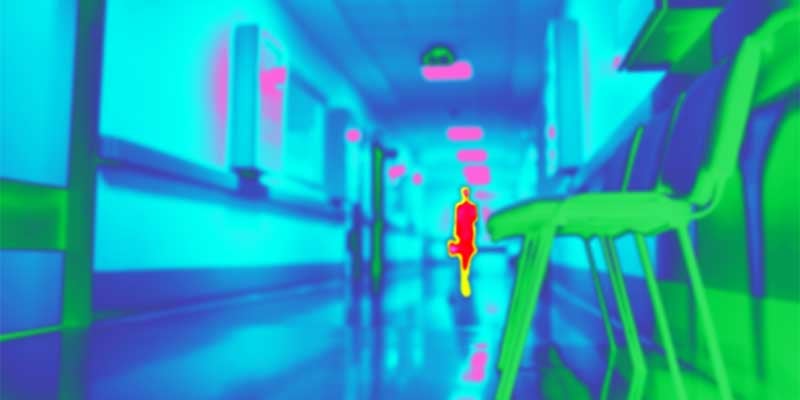 Hospitals are vulnerable spaces that face a multitude of security threats and risks. The need to balance and maintain a safe and welcoming environment, while protecting patients, visitors, and healthcare workers, are monumental responsibilities, largely aggravated by the openness and number of entrances throughout the facility. As people come and go, decision-makers are responsible for monitoring activity, providing quick emergency responses, and placing a great emphasis on patient satisfaction and retention.
Thermal technology
A critical tool to create a safe healthcare setting, where patients and staff feel comfortable and secure, is thermal technology. Thermal cameras make it possible to use video surveillance without violating patient privacy. Although HIPAA regulations establish national standards to protect individual's medical records and other health information, high-quality infrared cameras can be used by healthcare providers to offer patients with uninterrupted monitoring while still respecting their right to privacy.
Thermal imaging cameras have lenses that focus only on heatwaves present in objects. Thousands of sensors convert the energy readings into an electrical signal, which creates a video image or thermal profile (heat mapping). The technology can be adapted to regular dome cameras, and leaders can add privacy lights to the cameras in order for patients to know where they are.
With thermal technology, patient satisfaction and safety, as well as the quality of care, can be substantially increased. Thermal cameras can detect incidents and movement without revealing personal details of the people in the image, trigger alerts, and give staff the information needed to respond timely. This technology is particularly beneficial in hospital patient rooms and senior living care homes.
Built-in video analytics
Thermal technology can help security teams respond appropriately to emergencies in less time, which can prevent events from developing into tragedies. As the cameras can be integrated with a video analytics system, incidents, like if a patient attempts to rise from their bed or if they fall, can be automatically detected, triggering an alarm and helping staff quickly address issues.
The built-in analytics can include sound recognition, among other tools. Having the ability to detect sound is especially valuable in mental health institutions, where it could denote aggressive behavior or distressed patients. In healthcare environments, video analytics is not only utilized to observe patients, they can also detect gunshots and signs of aggression.