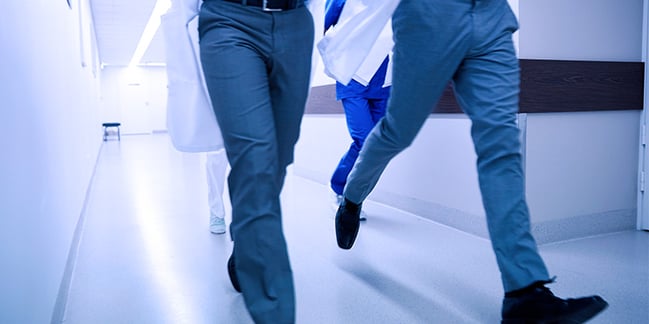 Normally, when we think of premises in need of security, hospitals often don't come to mind. Yet, vandalism against hospital staff is alarmingly increasing all over the world. According to the WHO (World Health Organization), between 8% and 38% of health workers suffer physical violence at some point in their careers. In fact, 75% of nearly 25,000 workplace assaults occur annually in healthcare settings. While most of these attacks are committed by patients and visitors, type I violence, which is perpetrated by individuals who have no association with the workplace or employee and have a criminal intent, is also on the rise.
As stated on the Healthcare Crime Survey (International Association for Healthcare Security and Safety 2017), between 2015 and 2016, assaults increased from 8.1 to 9.3, vandalism rose from 2.1 to 3, and burglary went up from 0.4 to 0.6. Theft and disorderly conduct events had the biggest increases, rising from 5.7 to 8 and 21.4 to 34.1 respectively.
Consequently, it is imperative healthcare organizations find successful ways to reduce the risk of violence and protect their workforce, particularly when hospitals are often open 24 hours a day, seven days a week, and are required to be accessible to the general public. Failure to do that may result, in the opinion of the World Health Organization, in psychological and physical negative consequences on healthcare staff, reduction in the quality of care, and it might also lead to financial loss in the health sector.
With this in mind, it is important that health organizations take initiatives to help protect employees in the healthcare field. Modern hospital and sophisticated access control systems can help achieve the goal of preventing criminal offenses in hospitals.
1. Proximity/Smart Card
Used as employee ID badges to grant physical access to buildings, smart cards are an effective way to stop identity theft and fraud which can ultimately lead to type I violence. This technology enables the addition of security elements like a picture, PIN or personal identification number, and a biometric like a fingerprint, making it virtually impossible for someone to use a lost or stolen smart card.
2. Metal Detectors
Healthcare organizations can minimize potential risk factors to guarantee staff are as safe as possible with the installation of metal detectors. They can detect many weapons containing metals and act as a deterrent to criminals. In addition to giving employees a sense that administrators are doing a substantial effort to protect them.
3. Video Surveillance System
IP-based video surveillance is a cost-effective solution to increase security at hospitals. By providing coverage of the premises, perimeter and parking surveillance, facial recognition, movement monitoring, and license plate recognition, type I crime can be greatly decreased in hospitals.