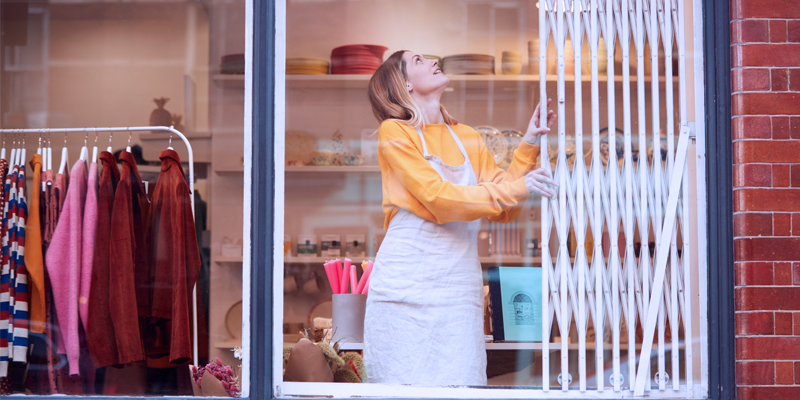 Small business security solutions are similar in many ways to commercial security systems for medium and large organizations. However, small companies have unique needs when it comes to the question of access control—that is how they secure their people (employees), premises (office space), and assets within or outside an organization's physical boundaries - such as vehicles and other expensive equipment.
There are many benefits to commercial access control systems. They keep bad guys out, which means they help protect a small company's assets, employees, and customers. They provide accountability, which helps protect a company from lawsuits for negligent supervision or hiring. Finally, commercial access control systems can help an organization hold its employees accountable as well as create a paper trail of activity internally and externally to the organization.
Small businesses are often at a disadvantage when it comes to security when compared to their larger peers. They may not have enough employees or resources available for implementing access control systems, which can make them more susceptible in comparison with larger companies who take advantage of these systems as a foundational component of their business strategy. The fact is that today's access control security systems can help your organization save time, money, and improve its operational efficiency. Continue reading to learn how a modern access control system enhances both the security and profitability of any small business.
Access Control – investment or cost?
Commercial access control systems can be cloud-based or standalone commercial security systems that are installed on-site. Cloud commercial access control systems store data in the cloud, which means they are accessible over the Internet. Standalone commercial access control systems store data locally, which means access is usually confined to a small geographical region.
Small businesses must continuously decide how to maximize the limited resources that they currently have, whether they are budgetary or personnel-related. Therefore, business owners or other stakeholders may have reservations about investing more into access control security and potentially detracting from their profit targets.
It is important to consider, however, the cost of not having security and access control systems may actually exceed the cost of having them. For example, if an employee loses keys to the building, you may have to rekey multiple doors. If you do not have proper, up-to-date systems, you may face hefty non-compliance fees. Also consider that two-thirds of small businesses fall victim to employee theft, according to the National Federation of Independent Business.
Potential long-term cost savings - including those savings realized by reducing theft - are one of the greatest benefits of access control systems. No longer will organizations have to keep purchasing keypads, swipe cards, or tags, and manage them for employees. They also will not have to worry about replacement costs for physical security items. Today's touchless access systems have biometric technology that can identify someone by their unique physical characteristics, like their fingerprints. Many leading cloud-based access control solutions, including Openpath and Brivo, also offer secure access to a facility via an employee's smartphone. The most advanced access control systems may also utilize facial recognition capabilities to identify and authenticate employees.
Contactless systems are of interest to many companies right now in the age of Covid-19. You can find access control devices that can detect someone's temperature and face masks usage to gauge the health of people entering and exiting your building. This helps you save on your methods for monitoring employee health and avoid the cost of suspending business operations due to contagious individuals.
Manage your facility's inflow and outflow from anywhere
Secondly, with today's methods for managing facility access, you do not need to be onsite to oversee your organization's security. When you work with a cloud-based system, you can access it from a web browser anywhere. All you need is a secure login and a device such as a PC or a smartphone.
Your colleagues are only human, and there will be times when they may forget to lock the doors or otherwise secure the office. Since cloud-based access control software can be accessed from any computer with Internet access, this type of access control system makes it possible for an end-user to monitor and manage employee activities without having to go into the office space itself. This can make it easier for a small business owner or an entrepreneur to avoid having to interrupt employees who may be in the middle of an important task. You can simply log in online and check your security system remotely from any internet-capable device. An effective system should even allow you to lock your doors or set your video cameras digitally.
One of the greatest advantages of cloud access control is that it centralizes your security and makes it accessible. All you need is one cloud-based system to manage your organization's security online, even if your company has multiple office locations. You can install, maintain, and monitor your entire security system from one device. Centralizing your security also makes it easier to integrate your access setup into your pre-existing solutions.
Investing in the cloud means saving on hardware, power servers, rack storage, and maintenance efforts. It is also a lot easier to update your systems after they are installed. With standard systems, you typically must pay an annual licensing fee for each feature update you want. With cloud solutions, you can add or remove features to match your organization's needs.
Grow your security system as you grow your business
The technology in a standard security system may only last five to ten years and then you will need to replace it. You are also financially responsible for power consumption, equipment costs, and ongoing maintenance and licensing fees. PC software operating systems require more effort and expense for updates. Basically, scaling your security solutions will not be easy with this traditional approach.
With a cloud-based access control system, you won't have to worry about the costs of installing new technology as your business expands. You can easily add software updates and manage servers as your organization grows. A cloud platform should effortlessly accommodate new users. A further advantage of access control software is that it is hosted on three remote servers. If one server fails or goes out, you can still rely on the other two servers without disrupting your organization's productivity.
Control access to your small business with access control
Some commercial access control systems are affordable enough for small business owners or entrepreneurs to use without spending too much valuable capital. Cloud commercial security systems can be purchased monthly, instead of customers having to purchase expensive equipment upfront. This can make it easier for a small business owner or entrepreneur to manage risk. Electronic access control systems do not require arduous, expensive installation and management. In fact, they are now more affordable and readier for use than they ever were before. With components like cloud access, contactless technology, and digital identification, you will have the right program to secure your small business.
Installing a modern cloud-based access control system requires a professional commercial security integrator like Security 101. It is important to use a security integrator because cloud-based access control systems are different from traditional physical access control systems. A cloud-connected system needs cloud integration, not just installation.
A qualified access control installer can provide cloud connectivity even for simple devices such as smartphone and tablet apps—devices that most office employees have on them every minute of every day—and cloud integration, which means more than just access to cloud storage.
Robert Chamberlin
Rob Chamberlin is the founder and President of Security 101 – San Francisco Bay Area & Sacramento. Security 101 offers a full range of commercial security professional services to its business customers and helps to protect its client's people, ...