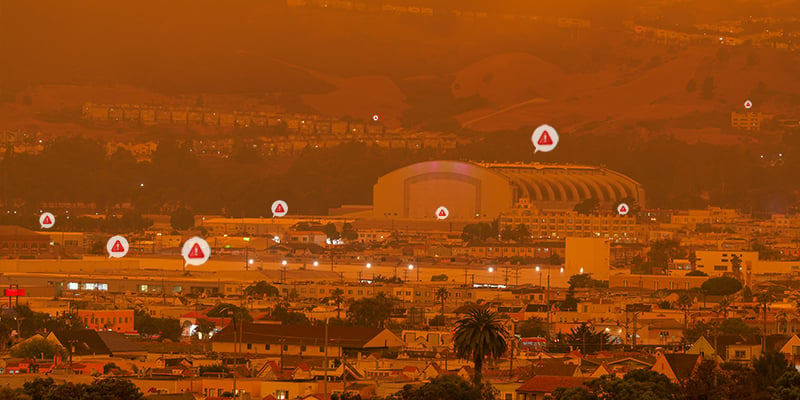 Wildfires have become more deadly and destructive in recent years, affecting several states. They are unpredictable, difficult to control, and can severely impact surrounding communities. A key solution to ensure timely response and better wildfire preparedness is Mass Communication technology, which is able to disseminate life-saving messages and instructions to people and keep them out of harm's way.
Montana, Idaho, Colorado, California, New Mexico, Utah, Wyoming, Oklahoma, Oregon, and Arizona are wildfire-prone states. These high-risk regions often experience the costly and devastating effects of fire on life and property. Health problems, death, property destruction, and irreparable changes to biodiversity are just a few of the many consequences of wildfires. Not to mention their ripple effect, as they also influence housing access, social services, and health care access.
Government agencies and private organizations, generally, lack the resources and knowledge to successfully address a wildfire, focusing their attention on internal communications only or communicating the threat to the community when it is already too late. Providing citizens and employees with timely warnings is the first step to mitigate the damage that wildfires could produce.
Reliable mass communication systems are the answer to prevent a tragedy, by delivering fast alerts and directions during these types of natural disasters. These are some features to look for when adopting an emergency communication platform:
The interface must be easy-to-use and intuitive. Safety personnel must feel comfortable using the system.
New message composition should be easy.
Automated pre-written notifications must be available.
Integration with FEMA's Integrated Public Alert and Warning System (IPAWS) to distribute local emergency notifications through all available alert and warning channels and contact unsubscribed individuals and travelers.
Ability to translate messages to different languages in order to reach every person in the community or organization.
Multiple communication channels.
Alerts can be issued anytime, anywhere from a mobile app.
Identifying and tracking the location of people who need assistance.
During an emergency, it is crucial to communicate early and often — without crossing the line of alert fatigue. Keeping citizens, or the employees of your business, informed from the start of the event, sharing relevant information and actionable instructions, and providing safety tips, can make a difference and reduce the threat of a wildfire.