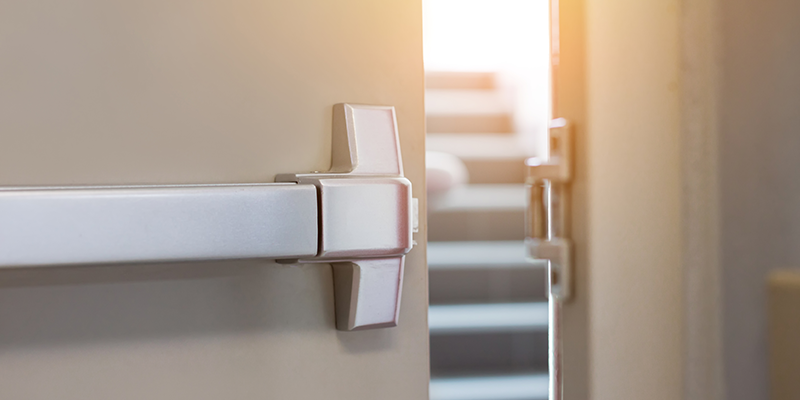 For property managers, establishing the right egress controls is just as important as restricting access throughout their building to only tenants, employees, and authorized visitors. Allowing individuals to exit freely through any door is mandated by the National Fire Protection Association (NFPA) and by state agencies in order to maintain life safety.
There are certain regulations that must be taken into consideration to implement approved and effective egress devices:
The mechanism does not require tools or special knowledge to operate doors or locks when traveling in the direction of egress.
Normal and emergency egress is allowed through doors at all times.
There is only one lock on a door that demands only one operation.
Where provided, activation of the fire alarm system (manual or automatic) automatically unlocks the doors.
The method of operation is obvious and can be readily actuated under all lighting conditions.
In general, doors should be programmed to open easily from the egress side. Further, if magnetic, electric, or electronic locking devices are utilized, it is critical that when there is a loss of power, doors automatically unlock to allow free and fast egress to building occupants.
Types of egress devices

Egress motion sensors
Infrared motion sensors are an efficacious alternative for egress purposes in apartment buildings and multi-unit complexes. Modern versions have adjustable narrow activation, limited to door handle area, and cannot be deceived by objects placed under the door. In addition, they are designed to eliminate cross-traffic activation, are immune to thermal changes, and can also have an adjustable delay.
Delayed egress solutions
This type of hardware is typically used to mitigate theft and crime, while protecting tenants, by preventing a door from being opened from the egress side for a specified time, usually 1 to 60 seconds. During this time, approval for egress is requested from the security team.
This mechanism incorporates delayed egress features or electromagnetic locks with delayed egress circuitry. When the device is activated, the door remains locked for a specific time frame, before allowing exit.
Push-to-exit buttons
Dependent on the real estate structure, exit buttons might be a key component of a comprehensive access control solution. This button is used to request exit from a building and is suitable in electronic locking integrations that still need to offer a free-exit option on doors.
When the access control panel fails to unlock a door, the door handle is not functioning, or the user cannot unlock the door physically, a push to exit button can allow free exit successfully.
Request-to-exit push bars
These bars can supply property managers with uninhibited egress through access-controlled openings that have magnetic locks while eliminating the need for prior knowledge of egress operation. This solution engages with a single natural motion.
Property managers are tasked not only with managing the day-to-day operations of the real estate they oversee but they are also challenged with safeguarding and securing it. Advanced egress solutions are a significant variable to consider to protect tenants and employees by ensuring a free and safe exit at all times, without compromising the security of the building.