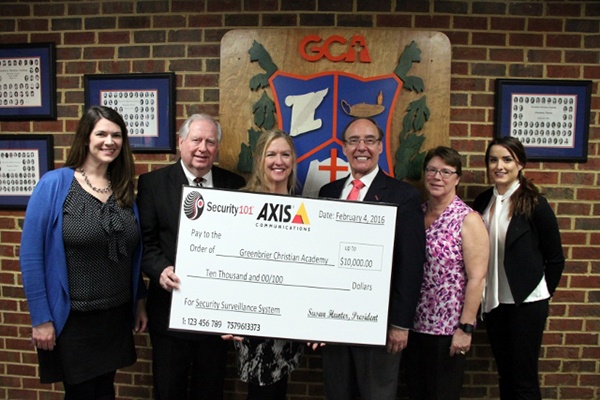 In the Gift of Security's first year at Security 101 - Hampton Roads, local non-profits were nominated for consideration by the panel of judges. The local judges then selected their top three

non-profits and opened the voting for the finalist to the community. The community chose from these three finalists to determine one winner. On February 4th, Security 101 officially announced the winner of the Gift of Security at Security 101 - Hampton Roads.
Security 101 – Hampton Roads' Gift of Security winner was Greenbrier Christian Academy, a non-profit school in the Norfolk, Virginia area. Susan Hunter and the Security 101 – Hampton Roads team stopped by to celebrate Greenbrier Christian Academy on February 4th. The school's Superintendent Dr. White opened the award event, discussing Greenbrier Christian Academy's emphasis on security as the result of a recent assessment by law enforcement officials. Since cameras were a high priority in the assessment recommendations, Greenbrier Christian was especially excited to receive this as a gift. Mayor Krasnoff of Chesapeake, Virginia addressed those present about the importance of supporting local non-profits, and his personal support for the school and its mission. He thanked Security 101 and Axis Communications for their participation. Pictured above are (from left to right): Danielle Gullickson: Community Director for Greenbrier Christian Academy, Dr Ron White: Superintendent for Greenbrier Christian Academy, Susan Hunter: President of Security 101 - Hampton Roads, Alan Krasnoff: Mayor of Chesapeake, Lolita Sheats: Director of NMCRS and one of the 2016 judges for the Gift of Security, Taylor Jones: Account Executive at Security 101 - Hampton Roads.
Susan Hunter of Security 101 – Hampton Roads shared why Hampton Roads began the Gift of Security program this year:
"We chose to make the Gift of Security a priority in Hampton Roads because it's a tangible way to support our non-profits. We offer more than just a donation; we give them our expertise on system location, view, setup, and support. This security system will protect the staff and volunteers, so they can stay focused on the great work they do. It's a small way of saying 'thank you' for their efforts to make our community a better place to live and work."
Security 101 – Hampton Roads plans on continuing to give back to their community with the Gift of Security in 2017. To get in contact with Susan Hunter and the rest of the Security 101 - Hampton Roads team click here
Stay tuned for the next location featured in the Team101 Gives Back series: Security 101 - Charlotte.