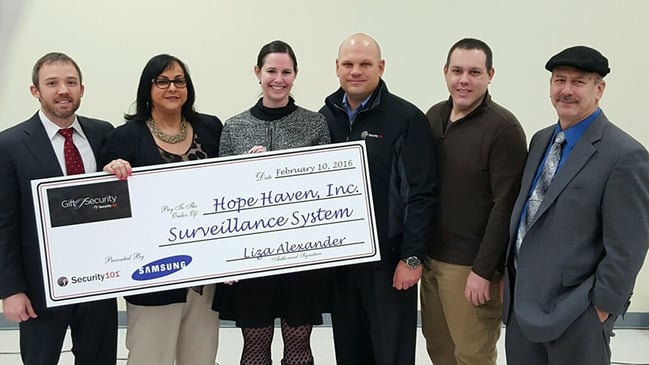 The Gift of Security also had it's inaugural year at Security 101 - Charlotte. Local non-profits were nominated by the Charlotte community for consideration by the panel of judges. The local judges then selected their top three

non-profits and opened the voting for the finalist to the community. The community chose from these three finalists to determine one winner. On February 4th, Security 101 officially announced the winner of the Gift of Security at Security 101 - Charlotte.
Charlotte's first ever Gift of Security winner is Hope Haven, Inc., a non-profit organization dedicated to assisting chemically-dependent families and Charlotte's homeless population. On February 10th, some of the Security 101 - Charlotte team visited Hope Haven, Inc. to celebrate their award. Liza Alexander, Aaron Alexander, and Scott Robitzer, partners at Security 101 - Charlotte, brought donuts to share with over 70 people, including Hope Haven's leadership, staff, and residents, to celebrate the awarding of a new Samsung Security surveillance system. Hope Haven's President and CEO, Alice Harrison, opened the award event explaining how their security needs are high, but low on their Capital Budget list. For this reason, Hope Haven was especially excited to win this IP camera system as it would have several years down the line before they could purchase one on their own. Jon P. Carroll, Chairman of The Board at Hope Haven, thanked Security 101 and Samsung Security for reinvesting in the community. Pictured above are (from left to right): Jon Carroll, Chairman of the Hope Haven Board of Directors, Alice Harrison, Hope Haven President and CEO, Liza Alexander, Scott Robitzer, Aaron Alexander, partners at Security 101 - Charlotte, Richard Korenich, Director of Security Communication at Central Piedmont Community College and member of our panel of judges for the Gift of Security.
Liza Alexander shared why Charlotte decided to begin the Gift of Security this year:
"We chose to establish the Gift of Security in Charlotte because it is a tangible way that we can use our skills and expertise to give back to the community. By providing a secure environment the staff and residents at Hope Haven can focus on their core mission. Furthermore, it really feels good as a company to award those who commit every day to improving people's lives and making Charlotte a better place to live."
Security 101 – Charlotte plans on continuing to give back to their community with the Gift of Security in 2017. To get in contact with Liza Alexander and the rest of the Security 101 - Charlotte team click here.
Stay tuned for the final location featured in the Team101 Gives Back series: Security 101 - Salt Lake City.