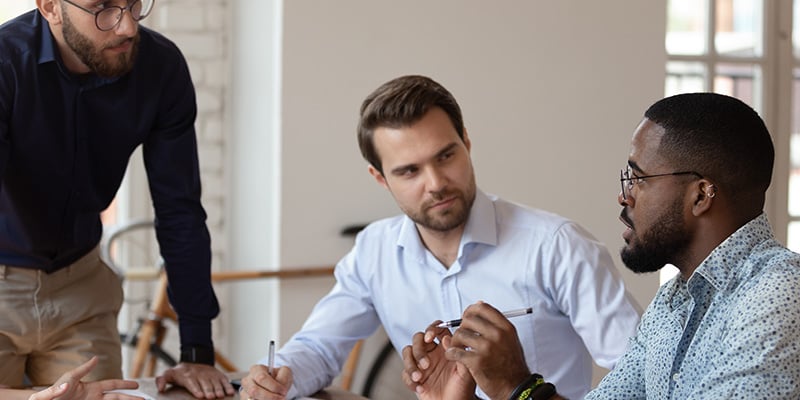 When it comes to ensuring the safety of employees, corporate property, and other valuable assets, business owners should always turn to professional commercial security integrators. These professionals have been trained to properly design, install and maintain a wide array of commercial security systems ranging from access control devices, video surveillance systems, and alarm monitoring.
The first key to selecting the right San Francisco Bay Area commercial security integrator for your company is understanding how an integrator qualifies for work. Most business customers are attracted by low-priced proposals, but they often mistake low pricing for top value.
Typically, the best commercial security integrators have been in business for several years and have a proven track record of successful projects. You generally don't want to work with an integrator that just started in the business, especially if you're relying on them to install and maintain your security system. While they may have very low pricing on equipment and installation, do you really want to trust your company's (and employee's) protection to an unproven company?
It might be tempting to go with a new company for cost reasons, but this is a false economy. If they don't do a good job of installation or maintenance, you'll lose money on company time wasted with service calls, and their equipment and/or software solutions will soon be outdated. Security hardware manufactured in China is considered a major security risk for many Government entities and their contractors and is largely prohibited in these facilities.
Common pitfalls and best practices when selecting an integrator:
Selecting an integrator purely based on price.
The integrator won't allow visits to their office location.
The integrator doesn't carry sufficient liability or worker's compensation insurance to protect the customer in case of an accident.
Look for integrators who are members of ITSEC, Building Owners and Managers Association (BOMA), or ASIS. These industry associations tend to attract quality companies that are committed to providing quality work at a reasonable price.
Get references from their previous customers or check reviews on Google or other social media platforms.
Equipment & software
When it comes to equipment, make sure your integrator is buying from top companies like Genetec, Software House, or Openpath, not an unknown brand. It's generally not ideal if they sell their own in-house branded products, because there may be a conflict of interest in this approach. Insist on an integrator that only sells best-in-class security solutions with no financial conflicts.
The same goes for both video management and access control software. The more popular it is, the better support you'll get if something happens to go wrong. It also means that your integrator isn't cutting corners on the latest features or programming languages just to reduce your initial installation costs, but also to limit your system's functionality.
Also make sure that your system runs on a commercial-grade network, not the same network that your office machines are on. This is critical because your security system needs to have priority over everything else.
If you want peace of mind, make sure your integrator has a good reputation for installation and support. You'll also want them to be proactive about protecting you against cyber threats with tools like remote system access. That way, when the worst happens and you need help from your security integrator on an urgent issue, they're there for you - remotely or on-site.
Scope of work and project management
Sometimes integrators are given a scope of work, which means detailed specifications for the security system being proposed. The more detail the better when it comes to project management. Always put your project scope in writing. This ensures that both you and the security integrator understand what needs to be done. Security 101 provides a detailed scope of work with every proposal, so we have you covered on this point.
Always conduct a site visit with your potential commercial security integrator. You'll want to ask questions and get a feel for how they run their business, so you know if they are the kind of company you want to work with. The more detail you can provide, the better it is for both you and your security integrator. These are the common mistakes to avoid when specifying a system for an integrator to bid on:
Not understanding how much equipment is actually needed for the project.
Not having realistic expectations of the costs or time required on the project.
There are other approvals and permits required by local code enforcement. If you don't do this, it's considered an illegal installation. A professional commercial security integrator will offer you guidance to ensure that you are following local rules and regulations.
Quality assurance & commissioning
When a commercial security company is installing your system, you want to make sure they are commissioning it properly. The commissioning and testing of a new security system are very important for several reasons.
First, the access control, access points, and video surveillance all need to be tested to ensure they are communicating properly with the access control panel. This verifies that the access control panel's programming is correct as well as performs standard troubleshooting on all devices being used for access control.
Secondly, all access points and video surveillance equipment need to be tested for functionality. Many access points will connect to the access control panel through wireless means, but there needs to also be connections for hard-wired access points. The access control panel needs to test its TCP/IP settings (if configured) as well as any PGM outputs that are available. The access panel will also need to test any wired sensors being used as well as have a full battery backup for at least 72 hours.
Thirdly, the access control panel needs to be tested to ensure it is working correctly with a dialer or phone line access method and if the system can be back up on a cellular network is configured. For access control, the access point and all access cards will need to be tested for proper functionality.
Video surveillance needs to have a certified technician test all devices being used for video including DVR's and monitors. All cameras need to be checked for functionality including PTZ (pan-tilt-zoom) camera movement. This will also ensure all camera settings are correct and working if required. Any access points used for sending video feeds over the network need to be tested as well.
Lastly, voice recording needs to be tested using any available access points so that the access control panel may playback recorded messages during access control. All-access points need to be checked with access control panel programming to make sure they will access the voice message system.
To ensure the security of your company, it is important that you select a commercial security integrator in the Bay Area with experience and expertise.
Robert Chamberlin
Rob Chamberlin is the founder and President of Security 101 – San Francisco Bay Area & Sacramento. Security 101 offers a full range of commercial security professional services to its business customers and helps to protect its client's people, ...