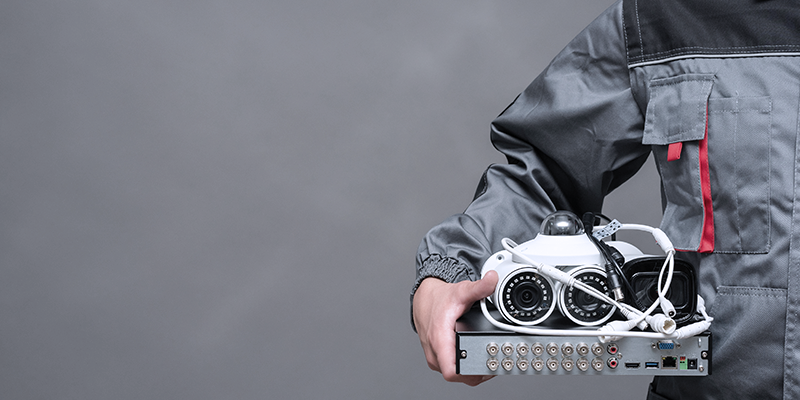 Internet Protocol cameras, also known as IP cameras or network cameras, offer digital video surveillance by transmitting and receiving video over the internet or a local area network (LAN). IP cameras, as their name implies, connect to a network via Wi-Fi or Power over Ethernet (PoE) cables. They're commonly used with network video recorders (NVRs) and sometimes digital video recorders (DVRs), making them a popular solution for enterprise video surveillance.
Often used for surveillance. IP cameras, unlike analog CCTV cameras, do not require a local recording device; a local network is sufficient. IP cameras connect to a network, similar to how computers and phones connect.
Depending on the model, an IP camera can capture high-definition video with a resolution of up to 16 megapixels. Each IP camera is equipped with a processing chip, which compresses the video footage as it's recorded. What does it mean? Well, the greater the camera's resolution, the more data each video saves. Images with a higher resolution require more storage space and transmission bandwidth than images with a lower resolution.
Common IP cameras currently on the market
Pan-tilt-zoom (PTZ) cameras
Their field of view and angle can be adjusted remotely, allowing users to track events with greater precision. They can cover potentially expansive areas and are frequently used to monitor outdoor public spaces.
Fixed/Static IP cameras
They maintain a stationary position and provide a single view within the camera's field of view, continuously monitoring subjects within a predetermined frame. Widespread use of fixed cameras both indoors and outdoors, typically in retail stores and offices. Compared to PTZ cameras, their support requires less bandwidth.
PoE and PoE+ IP cameras
PoE IP cameras use an Ethernet cable (typically Cat 5 or 6) to transmit data and electrical power simultaneously. Eliminating the need to run separate cables for power and data, thereby reducing the required quantity of hardware. PoE systems are typically easier to install and less expensive to maintain than traditional systems due to their reduced component count.
PoE and PoE+ differ in the amount of electricity transmitted to power their respective systems. Standard PoE systems transmit up to 15 watts of power to most IP cameras. PoE+ systems transmit up to 30 watts and are typically utilized in cameras with their own heating and cooling mechanisms.
Wireless IP camera
Wireless IP cameras transmit video data by connecting to a WiFi router. The captured footage is uploaded to the cloud or the camera's local storage. A wired camera system is less susceptible to interference and is recommended for larger areas. Wireless IP cameras can be a good option for small homes, but they're not ideal for larger areas.
What you need to know before you buy
When you want to monitor any activities on your property, such as your home, office, or apartment, you should invest in the best cameras available. There are numerous types of cameras available today. Installing an IP (Internet Protocol) camera in your home can be an excellent choice. This camera provides a wide variety of useful features. Before purchasing the best unit, you can continue reading about the pros and cons of installing an IP camera today. Consider the following pros and cons before installing an IP camera on your property.
Buying an IP camera: The advantages
Storing videos is simple
This camera's first advantage is the most significant one. When using this camera, it should be simple to store recorded video on the server. All recorded video files will be stored on the server so that you can easily retrieve them in the future. This feature is extremely useful for securely storing all necessary video files from your IP camera on the server. Ensure you select the best IP camera provider to store your crucial files and videos on the best company's server.
Security with the cloud
IP cameras can be easily synced with other parts of your security ecosystem to better monitor and secure your facility. Many cloud-based systems now exist, offering security administrators of enterprises, hospitals, commercial real estate and more a way to scale their operations' security systems. For example, a robust security system might feature IP cameras and a cloud-based access control system. Using a simple API key, administrators can connect their cameras to their doors. When a door is opened, an alert within the access control dashboard will occur, and video will be streamed directly to the dashboard.
Easy installation process
Understanding how to install this IP camera on your property is simple. This camera's straightforward installation process allows you to save time and effort when installing it. The owner's manuals for the majority of dependable cameras are straightforward. The wiring and installation process requires little of your time and energy. If you wish to install a complete IP camera system on your property, it may only take a few days.
Ease of connectivity with other devices
This is another useful feature of the best IP camera currently available. When using a quality IP camera, you have access to your camera. This camera can connect to various popular devices, including laptops, PCs, tablets, and smartphones. Spend a significant amount of time figuring out how to access your IP cameras from your mobile device. Installing certain applications on your mobile devices enables you to monitor your property easily.
Those choosing a cloud-based system over an on-premises system also have the option of tethering together their IP camera, mobile device, and access control. From a mobile device like a smartphone or tablet, administrators can stream security footage in real time from anywhere.
Extensible capability
Another compelling argument for thinking about investing in the best IP camera. You should use this camera to monitor every area of your property. You shouldn't need to install a bunch of additional network video recorders to add a few IP cameras. The installation process is much easier with the help of this feature. To ensure that any new IP cameras will work with your recorder, you still need to speak with a professional.
Buying an IP camera: The disadvantages
More bandwidth is required
This is one of the most common drawbacks of using an IP camera. This type of camera typically needs greater bandwidth than analog cameras currently on the market. Due to this, you must be cautious when calculating the Internet quota on your property. If you have a quota-based data plan on your property, it's an important consideration. You must calculate the amount of Internet quota included in your plan so that you do not incur excessive costs for using this IP camera.
Security breaches are high risk
This is yet another common concern regarding this IP camera. This IP camera is connected to the manufacturer's server. Therefore, using this IP camera can increase the risk of a security breach. To reduce this risk, you must purchase an IP camera from a reputable manufacturer. Before deciding on the best IP camera manufacturer to support your current needs, you should compare all available companies. Ensure that you learn how you can improve your business's overall security system today.
Some accessories are complicated
Some people complain about this factor, particularly when looking for the best IP camera for themselves. Most IP cameras need to use some additional accessories to function properly. You should purchase some essential items from the market, such as a wireless connector, video recorder, monitor, transmitter, and numerous other accessories. It can be difficult for some people, particularly those who do not have much experience installing the best IP camera on their properties these days. However, if you purchase the best IP camera from a reputable company, you should never worry about this issue.
Valuable features of IP cameras
Modern IP surveillance systems can share video clips via SMS messages, emails, or live links. This reduces the time required to notify authorities of incidents requiring immediate action.
It's generally accepted that IP cameras offer superior video quality compared to the analog cameras traditionally used in CCTV systems. Because they transmit digital signals, they can capture more detail. This enables many IP security systems to integrate advanced video analytics, such as facial recognition, into their software.
Contemporary surveillance systems use artificial intelligence (AI) and edge-based analytics to identify people and objects within the camera's field of view. Using facial and vehicle matching, software with deep learning capabilities can alert users of incidents in real-time and expedite investigations. These sophisticated surveillance systems also enable users to define restricted areas within the camera's field of view and receive alerts if the significant activity is detected during a specified time of day.
IP cameras operating in a "steady state" consume significantly less bandwidth, making them more scalable and less expensive for enterprises and large businesses. Once every 20 seconds, cameras in a steady state send a constant stream of encrypted thumbnails and associated metadata to the cloud. A steady-state IP camera operates at approximately 20 kbps, which is approximately 1/100 of a conventional cloud camera's streaming rate of 1-2 Mbps. Due to the low bandwidth footprint, more than one hundred steady-state cameras can share the same network connection and consume the same amount of bandwidth as a single traditional cloud camera.
Consult with an installation service provider
There are numerous advantages and disadvantages to installing an IP camera on your property and various types of IP cameras are available on the market. Ensure that you compare all available products to compare the features and benefits of all available cameras. Installing an IP camera on your property can significantly enhance the overall security of your property. If you are uncertain about your ability to install an IP camera system on your property, it is highly recommended that you consult with an installation service provider to save your valuable time and effort. Data storage, image quality, multiple cameras, higher resolution, access control, image storage, and remote access are all important factors to consider.
Paul Newton
Paul Newton is an experienced professional with a diverse background in the commercial security industry. With over 30 years of experience, Paul has held key leadership roles in various organizations, overseeing operations, managing projects, and ...