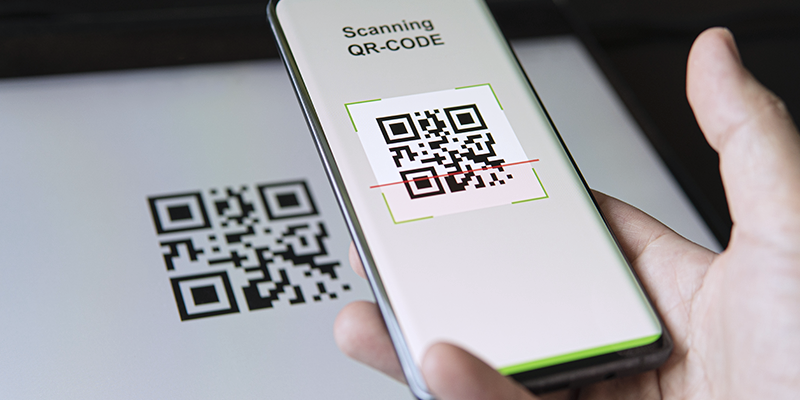 Technology innovations have created the expectation that things get done through a single tap on our mobile devices. Communicating with others, checking our health status, or shopping online requires nothing more than a simple press of a button. This expectation is becoming increasingly notorious in access control, as users demand speedy and convenient admittance rights and organizations are in need of reliable and efficacious access control systems.
A new authentication alternative
QR code-based identification is an emerging identity authentication option that leverages mobile devices to offer keyless and touch-free entry. QR Codes or Quick Response Codes are much more flexible than conventional bar codes, have more storage capacity, and allow for longer text strings.


Conventional bar codes

QR codes

One - dimensional
2- dimensional
Able to hold up to 43 characters
Able to hold up to 2500 characters
Holds information in the horizontal direction
Holds information in both horizontal and
vertical directions
Not unique. Used mostly to identify item type rather than individual item
Unique identification of items
Lack of robustness and ease of scanning
Can be read from any direction. Easier and
quicker to scan.

Although biometric or card readers offer similar benefits, QR codes can often operate where they cannot be deployed (e.g., glass doors).
QR codes for access control
With this type of advanced system, a unique QR code is easily generated by administrators in a matter of seconds. In addition, the access rights can be differentiated for each employee, visitor, or vendor. For example, they can be set for only a limited time period, a specific number of uses, or entry to certain doors within the building.
Businesses and organizations with challenging situations can find relief by adopting a QR code-based access control system that allows them to address numerous factors, including one-time-only deliveries, cleaning contractors, and different roles.
Once the QR code is generated, it can be distributed to the respective users through encrypted communication. This means that secure communication between the device and server can be procured.
Mobile phone works as a credential
Attendance can be marked and doors can be opened when users scan the received QR code using their mobile phones. Once the device is presented to the QR code reader, data is scanned and forwarded to the access control system to verify the access rights and privileges of each individual.
This sophisticated solution works quickly and precisely, which allows decision-makers to ensure a safe environment and effectively protect people and resources. Further, when QR codes are used for admissions, there is no direct contact between the reader and the user.
Benefits
Despite being a new access control option, QR code-based systems offer many advantages:
Installation convenience. QR code readers can be installed on walls and other flat surfaces.
Secured communication between the server and mobile device.
Decreased hardware cost and maintenance. When this solution is deployed, a virtual key can replace physical keys, plastic ID cards, and plastic key fobs. This leads to a lessened carbon footprint.
In addition, QR code access control systems require less staff, resources, and distribution times, ultimately reducing the total ownership cost.
Contactless access. In a post-pandemic world, this feature is crucial. Bring Your Own Device (BYOD) can help prevent the transmission of germs and viruses.
Unparalleled flexibility for challenging or temporary permissions.
Remote management. QR codes can be issued and distributed remotely.
QR code-based access control systems provide an effective and efficient way to manage entry for visitors, employees, deliveries, and contractors. It is a simple authentication process that promises convenience to users while hardening the security of the organization.
Embrace

simplicity, efficiency, and peace of mind

Enjoy contactless access, decreased hardware costs, and reduced maintenance. Contact us today to develop a customized security strategy tailored to your business.