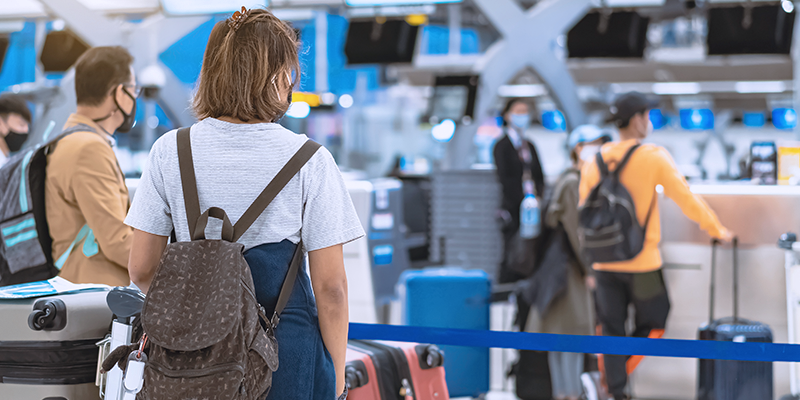 Due to the complexity of airport operations, threats are abundant. Large areas to monitor 24/7/365, multiple ingress and egress points, and a massive passenger flow require a solid security posture that includes a sophisticated video surveillance solution. IP-based video surveillance, a modern video management system, and video analytics are critical instruments that can help elevate airport security and ensure a smooth travel experience.
IP technology
IP video cameras are valuable to combat terrorism and criminal activity in airports. They provide an overall higher quality than analogue cameras, different fields of view, and better zoom-in capabilities. Further, digital cameras offer a resolution up to 20 times higher than obsolete options.
These cameras also have built-in analytics to help security teams detect suspicious activity, find terrorist threats, or identify lawbreakers by using facial or behavioral recognition technology. They are flexible and scalable and offer almost unlimited digital storage and improved search capabilities.
An effective video surveillance system for airports should:
Have the ability to capture large spatial areas in high-quality resolution.
Track intruders without interruption throughout the airport.
Monitor take-off and landing runways in high resolution.
Offer access, simultaneously, to different departments in an airport.
Provide remote access. Footage should be viewed by authorized users remotely from any device with network access.
Video analytics
When video analytics are incorporated with video surveillance in key areas of an airport, operations can be optimized and the travel experience can be enhanced. Modern technologies allow coverage of large areas with significantly lower infrastructure and maintenance costs. This is possible as a fewer number of cameras are needed, compared to legacy alternatives, even on runway zones that demand the coverage of several kilometers.
1. Parking areas
With the adoption of License Plate Recognition (LPR) and a first-class video surveillance system that supplies a detailed overview of what happens in this zone, security can be elevated, and theft and vandalism can be prevented.
2. Passenger flow
For this specific area, AI-based video analysis features such as automatic people counting are necessary to detect crowd formation and manage visitor flows more efficiently, reduce waiting times, and optimize airport space utilization. Moreover, with 3D cameras, bottlenecks can be easily identified and addressed.
3. Terminals
To improve the security of terminals, it is necessary to increase situational awareness and provide security teams with uninterrupted tracking of individuals displaying suspicious behavior over long stretches. AI-powered motion sensors should be considered as well.
Likewise, strategic baggage management is crucial, particularly when false stolen claims and theft of baggage are common issues. With the right video surveillance solution, a suspect can be monitored before and after the reported incident, or the location of the stolen item can be identified.
4. Airport perimeter
Defined image quality is key around the perimeter of the airport. To reduce the number of false alarms, Artificial Intelligence is required, as it can accurately identify and classify objects. Moreover, multifocal technology should be deployed since it reduces the need for added infrastructure.
Managed video surveillance can also support significantly the security of airports. Virtual guards, through the use of advanced technology and skilled operators, remotely and uninterruptedly, monitor the airport and provide immediate assistance when a threat is detected.
In this context, criminals can be directly addressed by agents, which is exponentially more effective than the sound of a siren. When airports implement managed video surveillance, the expense of security staff on-site can also be reduced.
5. Take-off and landing runways
These zones require:
High-resolution zooms.
Coverage of several kilometers of the runway with minimal equipment.
Ability to zoom into an image simultaneously by different departments.
Optical supervision of all events.
Rapid detection and documentation of threats.
Each airport has unique needs. However, one common priority is to ensure travelers, visitors, and employees are safe and protected. With the comprehensive use of first-class cameras, video surveillance systems, and video analytics, difficult challenges can be addressed, and airport security can be enhanced.
Elevate
airport security

today!

Prioritize traveler safety, visitor security, and employee protection by embracing advanced video surveillance solutions tailored to your airport's unique needs. Elevate security, optimize operations, and enhance the travel experience.