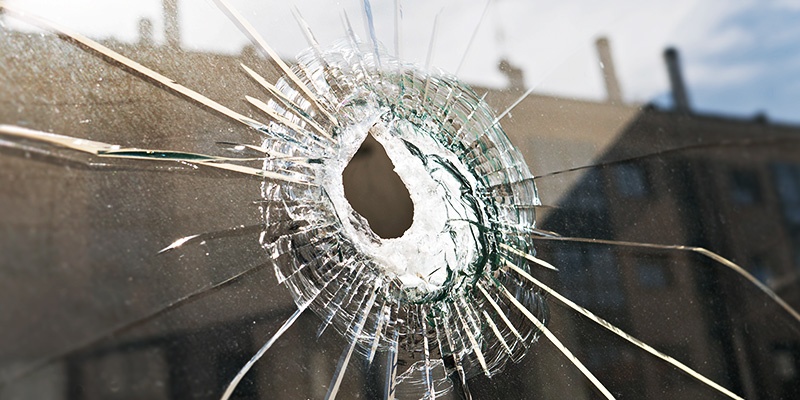 There were more than 300 mass shootings in the U.S. in 2015, according to SecurityInfoWatch, a leading security industry online publication. This year there's been 323 shootings with still a month left in the year. Mass shootings create chaos in a matter of seconds and without a plan or clear direction by security professionals, they can get even more out of hand. The technology to detect a gunshot through sound and have it be transmitted to the police ASAP is very compelling and growing in popularity.
Gunshot detection technology is not a new idea. It was first seriously researched during World War I. As technology has advanced and sensors have improved, the idea has turned into a reality. As with a lot of security technology, its development started with the military. Raytheon (a major U.S. defense contractor and industrial corporation) developed a system used by the military in Afghanistan and Iraq. It was used to pinpoint sniper fire and quickly alert soldiers in the field.
As guns and mass shootings became more of a problem in the civilian world, law enforcement and security professionals adapted the technology to work in a variety of situations. The mass shooting in Las Vegas on Oct. 2, 2017 that killed 58 people and wounded hundreds of others, put the technology in the spotlight.
Today, acoustic gunshot detection systems (AGDS) are being deployed at borders, cities, airports. universities, hotels and large venues to name a few locations. Systems use microphone sensor nodes to detect a gunshot. Location information is immediately sent to security personnel and law enforcement. One of the top shot detection vendors immediately sends the sensors' audio to a command center where the information is verified by experts in seconds. Other vendors have technology where the audio analysis takes place totally in the sensor. Some vendors claim they can accurately determine the number of shots and the type of weapon.
There are several types of systems including:
Outdoor
Indoor
Fixed
Mobile
Currently, the most popular systems are outdoor and fixed. But indoor systems are on the rise. Charleston International airport in South Carolina was the first airport to add gunshot recognition technology to the public portion of its passenger terminal. And many cities are looking for mobile solutions that can be moved from one area to another depending on need.
Many municipalities have seen the benefits of gunshot detection systems. They say the systems are far faster than 911 calls and more reliable because in some areas people are reluctant to call the police. The city of Cincinnati spent $225,000 in 2017 to cover three square miles with a network of listening devices used to triangulate the location of gunshots. Not long after, the gunshot detection technology led to the arrest of a man who was in illegal possession of a firearm and had several warrants out for his arrest. Police were able to get to the location before he could flee and before anyone had called 911.
Schools are picking up this technology for their campus safety, trying to mitigate the risks for their students and staying proactive. The Kenosha Unified School District, the first in Wisconsin to be approved for grant funding, plans to use $384,000 of its nearly $900,000 award to install gunshot-detecting sensors at its 43 schools. The system is designed to alert police within seconds of shots being fired and activate surveillance cameras near their location to livestream the scene to authorities. The sensors can also lock doors after gunshots. Kenosha and other schools that have received grant funding are also using the money to upgrade cameras and intercom systems. So far, Wisconsin has awarded nearly $6 million to 53 school districts and individual schools for security upgrades and funding is still available. State lawmakers budgeted $100 million in grants when they approved the legislation in March 2018.
Experts say none of these systems are yet 100 percent effective. It's important to team with a knowledgeable security integration firm that can help determine if a system is right for your organization.