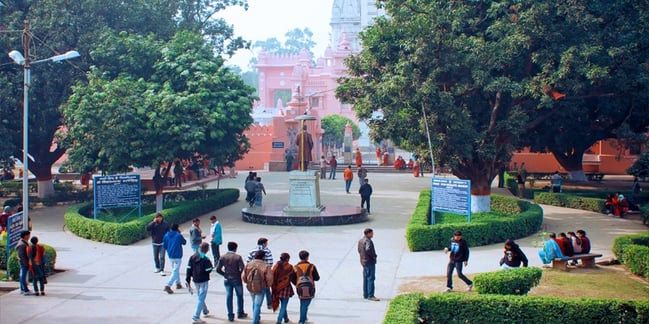 In today's climate, there are more ways than ever to make sure your campus is secure and your students, faculty, and administration are protected. Security 101 reviews a few of the best security measures popular in campus safety today.
Emergency Call Towers: you have probably already seen something similar to this in public areas. Most call towers are easily identifiable by their blue flashing light on top. The purpose behind this system is to provide a passerby quick access to report a crime, a suspicious individual, or perhaps a malfunctioning door or gate. Equipped with video cameras and a light, they help deter crime near poorly lit sidewalks, parking lots, and dormitory grounds. Their light signal also acts as a beacon for campus security locating an individual who has paged them.
Mass Notification Systems: we had previously discussed the benefit of something like a mass notification system in the event of an active shooter, and they serve other purposes as well. As one of the quickest methods of disseminating information, students can be alerted to violent incidents, fire, accidents, or any other dangerous threat that may be affecting the campus.
Smart Video: taking surveillance to a new level, cameras can now identify suspicious behavior, objects, individuals, or patterns in the area. With facial recognition, individuals who don't belong on campus or theft and vandalism of public property can be immediately identified.
Gunshot Detectors: a sad fact that can't be ignored, gunshot detection can save countless lives on a campus. They can be placed indoors or outdoors, record incidents, and capture video when connected to your surveillance cameras. They immediately alert the authorities and provide details of the exact location and more, dramatically reducing the response time to an incident.
Access Control: if your school does not already have this, it is a wise investment. Access control options for buildings are aplenty, and access to the campus itself may also provide you with an additional layer of security if crime is persistent in the surrounding area. Swipe cards, key fobs, ID cards, and key pads for PINs are all cost effective and easy to install. Guarded gates, such as those utilized by Savannah State University in Georgia, have fenced perimeters and checkpoints where students and staff can enter via a valid decal.
Surveillance Cameras: a staple in any security system, they are particularly beneficial near student housing and parking lots. The benefit is simple and obvious: capture and record any threats as well as acting as a deterrent for student-on-student crime. They can also reduce incidents of people "piggy-backing" behind other students as they enter housing.
Smart Phones: aside from the obvious direct line to 911, apps are now available that can upload a student's entire profile and provide them with a complete list of vital phone numbers and addresses. If a student is leaving the library late at night and feels a security escort to their car or dormitory is necessary, they can easily page the campus safety officials to pick them up. Campuses who have taken on this initiative have said the best time to do it is during new student orientation to make sure everyone is automatically set up from day one.
With an evolving student population and new issues facing students today that were non-issues several decades ago, safety in schools has moved to the top of the agenda for many administrators. As technology improves be sure to keep your campus's security plan up to date to take advantage of the latest measures available.