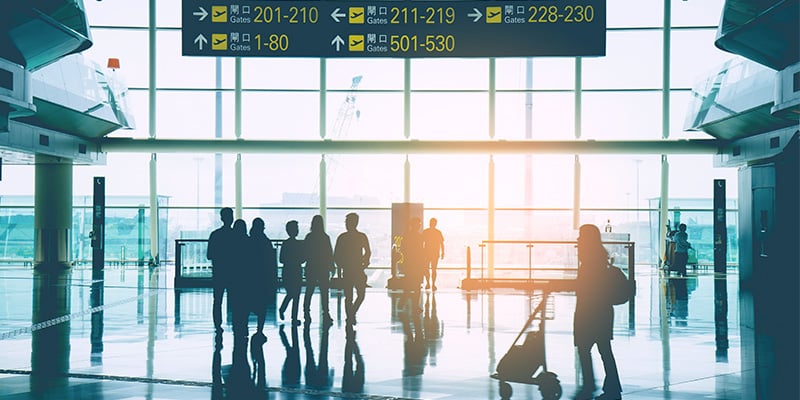 Traveling internationally anytime soon? Don't forget your passport this time. But in as little as five years, boarding an international flight will require little more than stopping to pose for a photo, thanks to facial recognition technology. Fifteen U.S. airports, including Atlanta's Hartsfield-Jackson, Boston's Logan, Los Angeles's LAX, and New York's JFK, are in various stages of testing this technology with airline partners, including British Airways, Delta, JetBlue, and Lufthansa.
Delta Air Lines launched the first terminal-wide deployment of biometrics in the U.S. in partnership with Customs and Border Protection (CBP), Hartsfield-Jackson Atlanta International Airport and the TSA. Facial recognition technology will be used throughout Terminal F (the Maynard H. Jackson International Terminal) at Hartsfield-Jackson to provide customers flying directly to international destinations with a seamless curb-to-gate travel experience.
In 2018, Orlando Airport announced a plan to become the first airport in the U.S. to use facial recognition for all of its international flights. Customers will be able to use facial recognition to check in at self-service kiosks, drop off checked baggage, serve as ID at the TSA checkpoint, board their flight, and – for international travelers arriving in the U.S. – be processed by CBP.
The technology is also finally accurate enough to identify people using facial recognition, which is gaining favor because it's cheaper and faster to snap someone's photo than to capture their fingerprints or iris scans.
The conveniences allowed by FRT will create a quicker and more seamless travel experience for passengers. British Airways claims it can board a full plane of 240 passengers in 10 minutes using the biometric boarding gates it is testing at LAX, about half the time it takes under the regular boarding process. Lufthansa saw similar results, boarding some 350 passengers onto an A380 in 20 minutes .
However, the best benefit for travelers may be at arrivals, where those who don't already have Global Entry or use the Mobile Passport app continue to experience long waits—these times could be greatly shortened if facial scans help match IDs with faces faster.
The biggest concern amongst passengers privacy when using facial recognition technology. Fears of a vast government database on travelers are making some people uneasy. Critics, including the American Civil Liberties Union (ACLU) and several members of Congress, claim that it's an overreach for the government to require U.S. citizens to submit to facial scans in order to board a plane. (CBP sources say that the facial scans will not be stored for longer than 14 days, but skeptics are not satisfied.) Opting out is simple, and CBP says that signs are posted to inform passengers that, if they prefer, they can see a gate agent at the counter to have their boarding pass scanned the traditional way.
The new wave of airport technology and shift in passenger experience is quickly approaching.