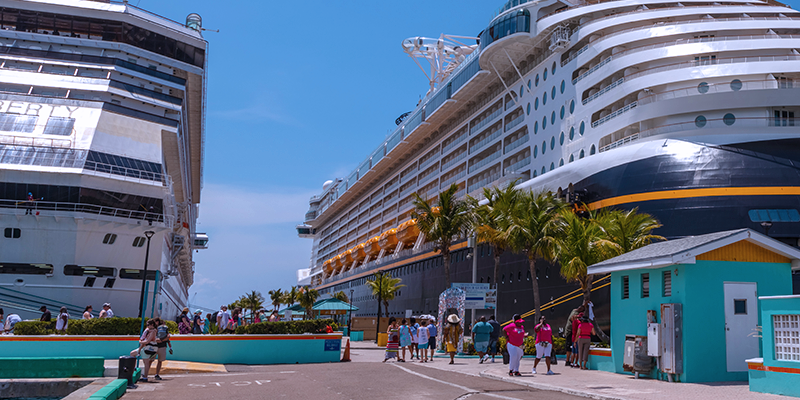 After the terrorist attacks of September 11th, security measures became much stricter for cruise ships. In order to keep passengers and crew members safe, the maritime sector must meet certain security requirements by providing sufficient access control and monitoring. Access control permits a secure environment and enhances the guest experience.
Access control at sea
Vessels, regardless of where they sail in the world, should adhere to the U.S. Cruise Vessel Security and Safety Act (CVSSA). An integral part of it is access control. Even though the risk of violent crime on cruise ships is 95% lower compared to a typical city in the U.S.A., it is key that stakeholders remain vigilant and innovative in their efforts to offer safe vacations.
Ship management must ensure that only authorized individuals have access to vessels. An effective system should be capable of recording the movement of guests and staff and identifying who enters and exits the ship. These priorities can be met with the utilization of smart ID cards. Each guest, including infants and children, is issued an identification/access card, which is used as a stateroom key. This card can also be utilized to make purchases.
Since guests can go ashore to explore different cruise ports, it is critical to implement an advanced access control system. With it, cards can be scanned every time individuals embark or disembark. This process can avoid dangerous security gaps.
Cruise ship access cards
These ID/access control cards, given when guests check-in at the embarkation port, are easy to carry and used for access and onboard purchases. They provide an immediate and effortless account for all passengers. Access control cards feature a picture that must be taken without sunglasses or hats.
They also contain valuable information:
Full name
Pass duration
Dining room assigned
Seating
Table
Type of membership
And more
Further, they can be used for:
Gaining access to cabins
Verifying dining times and table assignments
Verifying cabin assignments
Onboard purchases in gift shops, boutiques, lounges, and bars
Port identification
Additional security measures
In addition to implementing a sophisticated access control system, cruise ships should:
Enforce strictly the access card in order to grant access to the vessel to only authorized individuals.
Establish comprehensive security protocols, such as ensuring that every person passes through rigorous security checkpoints before boarding the ship.
Integrate video surveillance in corridors and common areas to support the access control system capabilities.
Ensure there are highly trained security personnel, on-call 24/7, to help prevent, detect, report, and respond to crime.
Provide guests with appropriate asset management solutions, such as safe boxes that cannot be manipulated or easily tampered with.
Access control is perhaps one of the most important solutions to ensure the safety of cruise ships and those on board. By providing passengers with visual identification and an efficacious access system, optimal cruise conditions can be guaranteed.
Set sail with

enhanced security

Contact us today to discuss how our innovative access control systems, including smart ID cards and comprehensive security protocols, can elevate your cruise ship security measures while enhancing onboard convenience.