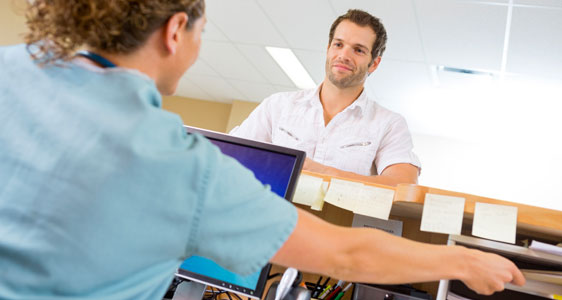 Thanks to the technological advances of electronic security and visitor management systems, checking in and monitoring visitors today can be fast, accurate, and easy. In retrospect, visitor management systems of the past, such as those requiring a printed name on a paper guest log, have become a glaringly flawed security measure for a variety of reasons…
They lack accuracy and credibility because anyone can write an illegible or false name

There is no information as to the individual's location after leaving the reception desk

The visitor ID or badge provides little information that would indicate the individual is entering an inappropriate floor or department

There is no way to determine if the visitor is still in the vicinity in the case of an emergency evacuation
This lack of visitor intelligence creates a sense of invisibility, especially for medium- to large-sized organizations that may often have a high amount of visitor traffic. Therefore, there is little to no accountability in the case of an emergency, or if someone with illegal or dangerous motives gains entrance without arising suspicion. If assault, homicide, identity theft, or infant abduction occurs due to lax security, the hospital can be liable for not enabling stricter visitor management.
An electronic visitor management system allows healthcare facilities to accurately monitor who is in the area or building and why. Most management software systems require the visitor to provide proof of identity in order to be checked against internal or external flagged databases (e.g. the sex offender registry in the case of a children's hospital). Once cleared, the visitor can receive a printed, professional-looking temporary badge for the duration of their visit.
The beauty of today's visitor management system lies in its ability to be modified due to its open architecture, which will allow it to evolve and add new security enhancements as they become available. Just as the healthcare industry grows in its ability to heal, so will the security industry grow in its ability to protect.