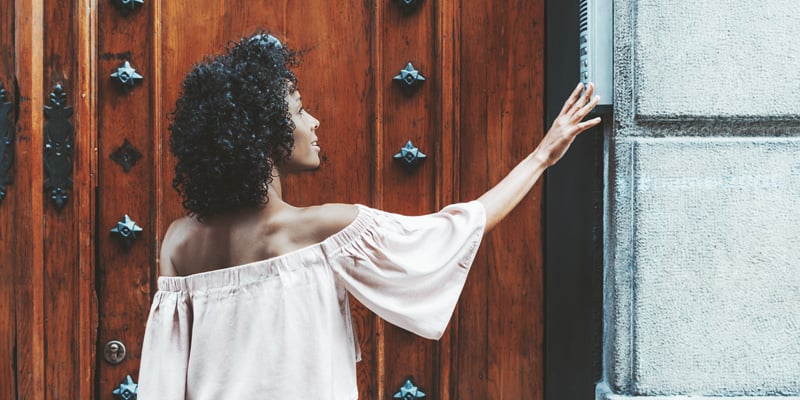 Any large multi-tenant office building, with businesses sharing one facility, creates many security challenges for owners and property managers. One challenge is balancing the diverse security needs and desires of tenants. Controlling visitors is a good example.
Some tenants prefer a more welcoming, accessible environment. Others, who receive few visitors, may prefer more restrictive security. There is no one approach that will satisfy all tenants- the goal is to find a balance to meet the needs of the majority.
Today's best practices for entry control call for keeping exterior doors locked whenever possible. It goes without saying that making sure the building has high quality locks installed, such as electric strike locks with fail-safe or fail secure feature; learn about the difference between to two here. Beyond secure locks, access control and video intercoms become invaluable. Tenant employees can use key fobs, cards, or PINs to enter the building. Combining a tenant directory with a video intercom door station enables visitors to directly call a suite to gain access. Tenants can see visitors on their in-office master station, while conducting a two-way conversation. Once it's determined visitors warrant access, the tenant can remotely unlock the door for delivery people and vendors. The video surveillance market will grow at 15.4% to over $106 Billion by 2025 reported by Yahoo Finance this month. This is due to "the increasing need of preventative measures for better safety and security."
Many larger office buildings are adding vestibules inside the main entry, creating another locked door before visitors enter the lobby. This helps eliminate the practice of tailgating or piggybacking - additional people entering along with an approved visitor. Another intercom in the vestibule provides tenants a second chance to review who's entering. It may slow the process by a few seconds, but greatly increases building security.
An added benefit of a video intercom system is it stores images of all visitors. These could be useful for reviewing who's been in the building following an incident. Also, today's IP-based video intercoms work on a network, enabling property managers to use a single security operations center to track activity from multiple buildings.
One final benefit: highly secure office space generally brings higher rents!