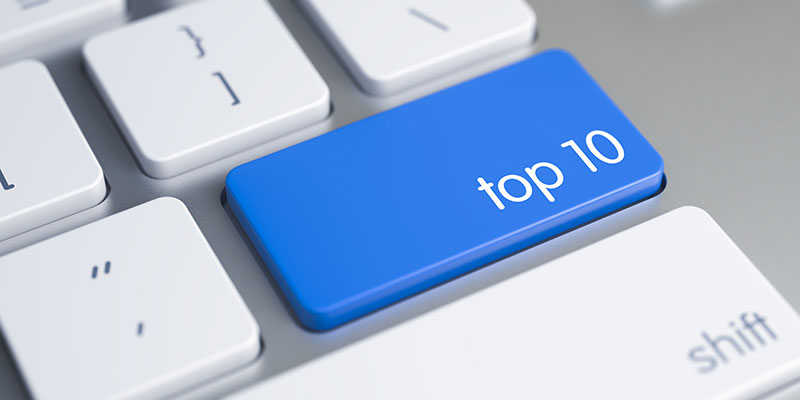 Enterprise security planning presents unique challenges compared to a single-site organization. For businesses that are operating out of multiple locations across the globe, there are increased concerns about sharing data, being able to manage physical security at all locations, and how to protect valuable assets without incurring exorbitant fees in the process.
First, what is enterprise security? As with most commercial security, enterprise security solutions are put in place to protect, detect, and prevent threats to buildings, assets, and people. For multi-location organizations, this means controlling who has access to the building, knowing what's happening and when, and having the ability to respond to any potential issues quickly and efficiently. Follow these 10 key pillars when designing an enterprise security architecture to maximize security, convenience, and interoperability across the entire organization.


Top 10 security recommendations for enterprise security planning
1. Assess risk for each location
The building security plan for one location could be very different for other locations. Use a security audit checklist to assess risk levels at each site separately, and identify any weak points in the security so you can address them. Key factors that determine potential risk include building location, the number of active users at that location, crime rates in the area, and considerations for extreme weather. For example, an office location in a high-rise building in a dense urban area like New York City will have drastically different security concerns than an office located in a suburban office park in Dallas, Texas.
2. Choose enterprise-grade technology
This may seem obvious, but there are many security platforms out there that are not right for multi-site organizations. Always look for providers that have solutions tailored to the unique needs of an enterprise, with features designed to scale with your business, boost productivity, and give you increased visibility without adding headcount to your security staff. All-in-one solutions may be tempting, but they often lack the flexibility to integrate with outside systems, and sometimes don't offer the advanced security features needed for a large-scale enterprise deployment.
3. Move to cloud-based systems for remote management
A top recommendation for planning enterprise security is to move to the cloud, as cloud-managed systems are often accessible remotely. Being able to access security systems from anywhere gives administrators more flexibility. Cloud-based enterprise security systems allow organizations to centralize security management to one location, reducing overhead costs across the board. Plus, cloud systems are often easier to update and maintain compared to legacy on-premise systems.
4. Access control for physical security
Enterprises need scalable physical security solutions to accommodate potential growth and maintain flexibility in the organization. One way to ensure maximum scalability without sacrificing security is to choose a mobile access control provider. Mobile credentials are easier to manage than key cards, especially for multi-site businesses with thousands of users across locations. Plus, smartphone credentials are also more secure than key cards, which can be easily copied and cloned. With a cloud-based access control system like Openpath, enterprises can scale with ease, adding new entries or locations, and issuing credentials in just a few clicks. If one of your locations has an existing access control system, it's also important to ensure any new systems are backwards compatible with the legacy system to minimize lost investment over time.
5. Protect your data
For enterprise organizations, data security is paramount. Data breaches are not only costly financially, they also can cause irreparable damage to your reputation. Enterprise security solutions should include added protective measures against data theft, including stringent cybersecurity across the organization. Part of this is ensuring that all communication between systems is encrypted end-to-end. Another best practice is to use access control to restrict access to areas where private data is stored, such as an IT or server room, or even locking offices to keep laptops and computers safe after-hours.
6. Add visual insights with video surveillance
Fortify your enterprise security system with a video surveillance system. Security cameras add visual insight into what's happening throughout the buildings. One issue with many security camera systems is that they need to be monitored 24/7, on-site, in order to be useful. However, with a cloud-based video management system, you can monitor activity across all locations from a single interface, from anywhere. When the VMS is integrated with the access control system, you can configure the system to automatically send alerts for certain access events, such as a door forced open, and see what's happening in real-time. The video footage can help identify what level of response is required, and reduce the occurrence of false alarms. This translates to reduced staffing requirements, and improved awareness of the enterprise as a whole.
7. Streamline identity management for multi-site enterprises
Managing all the users for an enterprise is a daunting task. Keycards can prove cumbersome and difficult to manage. Mobile credentials offer a more convenient experience, and can minimize the burns on administrative teams. Integrated with identity management, an enterprise access control system can automatically sync users, importing all employee information into one centralized interface. Plus, with a cloud-based system, administrators can issue or revoke credentials instantly, without having to track down key cards or meet an employee in person.
8. Configure full-building automations
In the IoT-connected world, automating processes and operations is key to streamlining businesses. For enterprise security, automations are essential to minimizing IT workload, improving efficiency, and increasing ROI. With an integrated building system in place, security teams have fewer systems to manage individually. With a system that can ingest data from business intelligence tools, this means smarter buildings, better workplace experiences, and improved productivity across the entire enterprise.
9. Check for compliance
Every industry has different compliance standards in order to operate successfully. An enterprise security expert can determine what's required for your business to be compliant with local, state, and federal standards. In terms of technology, enterprise security solutions should help your business meet those compliance standards. Always ask providers and third-party vendors for their certifications, and work with companies who can provide the levels of encryption, data protection, and physical compliance needed to keep you in business.
10. Provide education and training
Preventing security breaches before they happen requires proactivity from everyone in the organization. With any new security system, all personnel need to be trained on how to configure and use the system. Similarly, employees and staff should know how to identify potential security threats, and who to report to if they see something suspicious.
By following the above enterprise security planning best practices, organizations can create a security architecture that's smart and scalable. By employing technology solutions designed specifically for enterprise needs, and taking advantage of automations through cloud-based, interoperable technology, businesses can boost productivity, increase ROI, and ensure their security systems are future-proof.