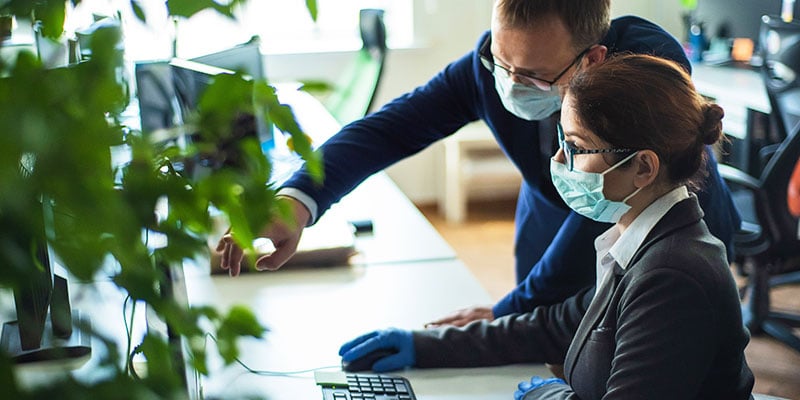 Today, the Centers for Disease Control and Prevention are working around the clock to make certain that the right measures are taken to protect the public while resuming operations after the COVID-19 quarantine.
Maintaining a distance of at least 6 feet between people is being enforced in many cities with some of them limiting any form of group gatherings and enforcing occupancy loads. With these new regulations, many businesses are asking how to estimate the occupancy of their premises and control social distancing. During this unprecedented time, being able to monitor and take measures when the number of people in your building surpasses the occupancy limit is ideal to enhance operational efficiency.
Occupancy sensors can be used to comply with codes and standards that require automatic lighting control. They use four types of signals that can detect heat, sound waves, microwaves, and acoustics.
Infrared radiation sensors or "PIR" are the most common type of occupancy sensor. These sensors can locate the heat radiated by humans and be triggered by its movement. The operating range of these passive sensors is most effective when used within a 15-foot specific direction.
Microwave sensors emit microwaves that help detect occupancy and movement. This versatile sensor can be used in high-heat environments and is good for covering large outdoor areas. The downside about these sensors is that they can have high false-alarm rates and do not work continuously.
Acoustic sensors detect sounds produced by people, but its weak point is that they can also respond to sounds that have nothing to do with occupancy.
An occupancy estimator analytics tool can help building owners enforce these health protocols while also calculating and reducing the consumption of energy. The technology uses diagnostic analytics and can help you gather data to improve operational planning — enhancing the utilization of spaces. The estimation tool can calculate on average how many people are in a building or area at different times and stores this information directly on each installed camera eliminating the need for an expensive server. The information gathered can then be analyzed to understand the flow of people improving the use of spaces.
Another great tool to monitor occupancy is a wearable proximity sensor, also called smart badge. This badge is an option that can make monitoring of interactions within the common areas easier by integrating it to security badges for access control. To encourage health protocols, an alarm can be set off when two or more people have exceeded the mandated distance therefore preventing the potential spread of the Corona-virus from person-to-person. By integrating it with a proximity identification analytics tool it is possible to determine when and where to increase enforcement to support social distancing and send a time-based alert when people are not maintaining space during a long lapse of time. This smart solution can also set line crossing rules for entries and exits to manage occupancy and ensuring capacity requirements are met.
Even though occupancy sensors aren't good candidates for spaces where people may be moving around throughout the workday, by configuring rule-based alerts they can recognize crowding and hotspots, triggering notifications to pay close attention to popular areas where dwelling occurs. The data can then be used as proof of compliance to maintain business operations.
Finally, by using count-based alerts for heavily trafficked spaces, a property manager can also arrange services to sanitize and clean the targeted area when a notification is received.