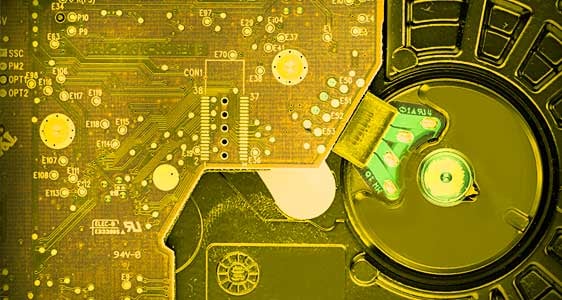 It can be universally agreed upon that most people recognize that video surveillance provides many layers of benefits, from being a crime deterrence to providing forensic data for criminal cases; however, those with more intimate knowledge about the intricacies of video solutions understand that there are also various components of video surveillance that must always operate as needed in order to maintain technical harmony. Far too many times do organizations fall prey to inadequate video installations that fail to adhere to requirements with regard to lighting, bandwidth, storage, or may involve complex, over-engineered designs that are unable to provide backup in the event of temporary or total system failure. A novel method to maintain operations and quality is to store video "on the edge" of the surveillance network to help pick up any slack.
Traditionally, video surveillance setups at a basic level are comprised of three to four major components from "start" to "finish": first, cameras capture the image, then cables transmit the data/footage, and finally, either a central monitoring station or a DVR/networked storage device (or both) shows/stores the video. Storing video on the edge translates to recording footage within the camera on either removable memory cards, built-in flash memory, or small hard disk drives.
Edge storage for video surveillance can benefit organizations that do not require a large scale deployment of a complex system. For a single-site retail store or branch, a temporary monitoring solution for an event, or even recording footage on a work van, truck, or public bus, it may not be possible to install a central server or DVR due to spatial issues or lack of adequate bandwidth. For instances of law enforcement needing to covertly install a camera where one is not normally present in order to provide proof of wrongdoing, having the camera encode and store footage directly to its memory card is also ideal. While this is quite possibly the most cost-effective solution for these specific video surveillance needs, it only provides the user video footage after the fact, removing the ability to detect suspicious or criminal activity as its happening. Additionally, if the memory card or hard disk drive were to fail, the video is almost always unrecoverable.
Added redundancy, less interrupted video
The best solution for most organizations that prioritize video surveillance is to use edge storage of video in conjunction with standard video management and centralized storage methods to obtain the maximum amount of system reliability and protection from possible failure. For instance, storing video on the edge can initiate when the IP camera temporarily loses connection with the server, offering fail-over recording on board the camera. When integrated with a video management system, the software is able to recognize a restored connection to the camera and retrieve the locally-stored footage and splice it with the rest of the footage stored on the server, ensuring the end result is an uninterrupted stream of video.
Implementing edge storage as a component within an organization's video surveillance solution may be that missing link for a security system that has disappointed in the past due to network outages or unforeseen complications that result in pockets of no surveillance. The good news is that depending on the type of storage being used within a camera and the quality of the footage, edge storage has the potential to last up to 2 to 4 weeks if the central server is unable to record events, providing additional redundancy of the system—an ideal scenario for instances of emergencies or natural disasters.