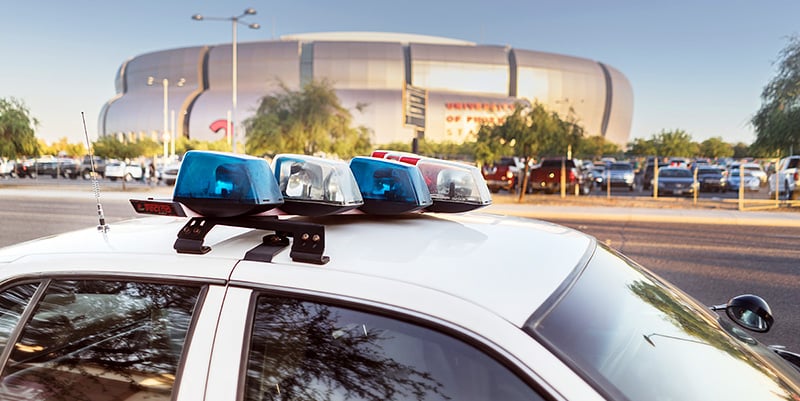 The end of the year and the month of January are filled with festivities and football games for hundreds of colleges across America, the NFL season is headed toward the Super Bowl, and MLB playoffs packed stadiums with fans eagerly watching as history is being made. People across the country are attending music concerts, other performances and holiday events in droves...
Each of these energized and crowded events presents complex security challenges, starting with the geography of the stadium. The dense concentration of people in the seating bowl requires careful monitoring, as do the retail and dining areas, restrooms and ATMs, the multiple entry points and the exterior areas of the stadium. Keeping an eye on the skies to watch for unwelcome drone flights is another dimension in securing stadiums.
Situational Awareness – A vital element
A comprehensive video surveillance strategy and robust deployment of network cameras are essential to allowing early detection of a situation within the crowd or elsewhere. This video data is especially powerful when paired with video analytics software that can detect aggression, heat signatures, license plates or facial recognition. Network cameras can be linked to panic button areas throughout the stadium, providing security teams with instant information about the nature of the emergency, or can be partnered with a stadium's security hotline, allowing camera operators to focus on the area of the complaint and capture the extent of the threat to relay to responders.
Access control and identity verification
Stadium offices and locker rooms, retail space and food prep areas require varying levels of access control, and tightly controlled access can benefit from the addition of biometrics to ensure the correct person is using a credentials badge. Vastly improved metal detection equipment at visitor entrances helps to reduce bottlenecks while adding a security layer. About a dozen professional sports teams have implemented a biometric ticketing program which allows fans, after a one-time registration, automatic access to the stadium with this identification method.
Training
A well-trained security staff can be even more effective with regular best practices training and practice drills. The Department of Homeland Security's (DHS) Cybersecurity and Infrastructure Security Agency (CISA) has staff in locations across the country to advise organizations on ways to enhance their security and to develop exercise response plans. Even custodians and food vendors can participate in situational awareness and reporting of issues if given appropriate training.
Key to a successful security strategy for these enormous and complicated venues is integrated systems that work in concert and allow communication superhighways, along with the ability to grow and adapt to changing threats.