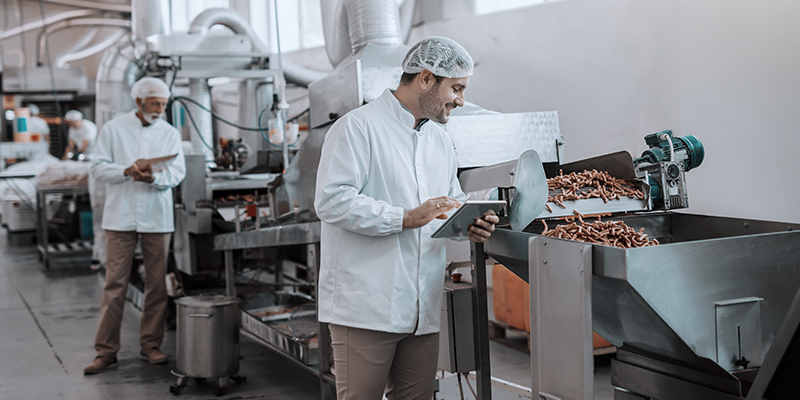 External attacks against manufacturers are common. Food and beverage plants, in particular, have to face constant threats that include vandalism, theft, terrorism, and food sabotage. These concerns not only affect food producers, processors, and transporters but the entire nation's food supply.
As attacks have become more prevalent, the Food and Drug Administration (FDA) has outlined preventive guidance for firms that produce, process, store, repack, relabel, distribute, or transport food or food ingredients. This guidance identifies the types of preventive measures operators of food establishments may take to minimize the risk that food under their control will be subject to tampering or other malicious, criminal, or terrorist actions.
Among the recommended strategies, the FDA suggests that all sectors of the food system— farms, aquaculture facilities, fishing vessels, producers, transportation operations, processing facilities, packing facilities, and warehouses —should assume a proactive approach to security by preventing potential breaches, promoting food security awareness, conducting appropriate screening protocols, restricting access, and increasing monitoring of facilities.
Physical security is, undoubtedly, a key measure to avert risks against processing plants. However, the set of solutions must be customized and advanced enough for each site, as many security systems used in manufacturing are still outdated and obsolete, making business owners more susceptible to malicious attacks.
Outer layers
Adequate fencing can help restrict access to criminals. In addition, access control allows decision makers to decide who can enter the manufacturing plant. This is key, especially during off hours. An advanced access control system can help a plant improve its operational efficiencies, augment the sense of security among occupants, and provide a safe environment for employees, visitors, and contractors.
With the right solution, factory owners and security managers can have peace of mind that only the right people, at the right time, have access to the site or areas within it. When utilizing advanced technologies, such as smart cards, mobile devices, or even biometrics, user convenience is amplified and visibility is improved with real-time monitoring.
Inside layers
Restricting access to laboratories, as well as sensitive materials is fundamental. Hardening internal areas with a combination of defensive controls, robust authentication, cloud technology, multiple levels of monitoring, logging, reporting, and 24/7/365 availability is ideal. Further, video surveillance and video analytics should be considered, as they both play a key role in the safety of a manufacturing facility.
Video cameras must be placed strategically throughout the site, to deter and detect, in real-time, any problematic events. In production areas, video surveillance can also be used to promote security and employee efficiency.
AI-driven hazard identification is also an outstanding application that combines computer vision, image analysis, and predictive analytics in one. This solution can provide the highest level of reliability for manufacturers. With a combination of potent sensors, video surveillance, and a state-of-the-art video central station, suspicious activity can always be detected and effectively addressed on time.
Likewise, the possibility of false alarms, and the fines associated with them, are greatly reduced, since threats can be captured by cameras. Sensors first trigger alarms in real-time, and pertinent information is timely sent to security operators. This process ensures the highest level of accuracy, coverage, and protection.
It is important to recognize the variety of effective security solutions available for food processing plants. Nevertheless, it is equally necessary to acknowledge that these solutions must be professionally integrated and interconnected. Intentional unification facilitates the management of security operations and increases the level of protection for the manufacturing site.
Take the leap
toward manufacturing excellence
Don't let your competition outpace you. Contact us today to explore how our tailored solutions can transform your manufacturing facility. Together, we'll propel your business toward greater success.