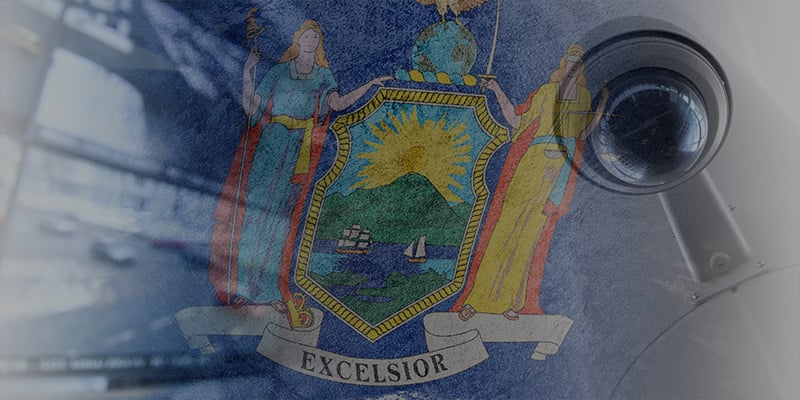 Given the soaring citywide crime statistics in NYS, it is only natural for property owners, employers, and other stakeholders to want to protect their buildings and assets as best as they can. Modern surveillance solutions are available now, offering a multitude of valuable and futuristic features, which importantly, elevate security, efficiency, and business performance.
Nevertheless, outstanding, 21st-century video technologies must be complemented by licit and permitted uses of cameras. In the Empire State, particularly, unlawful surveillance, illegal audio recordings, and offenses against the right to privacy are severely punished. In this delicate context, it is necessary to give special attention to New York's Penal Law and work with seasoned security integrators, knowledgeable about security camera laws in this state.
New York laws on video surveillance in the workplace
The 2007 Electronic Monitoring and Surveillance Survey, conducted by the American Management Association (AMA) and The ePolicy Institute, illustrated that 48% of the companies surveyed used video monitoring to reduce criminal activity and 7% used it to track staff performance.
While these numbers have probably increased throughout the years, video monitoring is still one of the most powerful tools to help create a safer work environment.
The following are essential legislations to follow in NYS:
New York State authorizes video recording in the workplace, but cameras must be overt and surveillance notices should be apparent and visible for employees, visitors, contractors, and vendors.
Section 203-C stipulates employee privacy protection, which prohibits video recording of personnel (or tenants) in a bedroom, restroom, locker room, washroom, shower, or room designated for the change of clothes, unless authorized by court order.
In addition, unlawful surveillance in the second degree, § 250.45, includes monitoring a person when such an individual has a reasonable expectation of privacy or without such person's knowledge or consent. Utilizing or installing imaging devices for no legitimate purpose is a class E felony. This carries a punishment of up to four years in prison and a $5,000 fine.
According to § 250.50, a person is guilty of unlawful surveillance in the first degree (class D felony) when they commit the crime of unlawful surveillance in the second degree and have been previously convicted within the past ten years of unlawful surveillance in the first or second degree. This carries a punishment of up to seven years in prison.
Interfering with employees' rights
Employees have the right to unionize, to join together to advance their interests as employees and to refrain from such activity. Thus, it is unlawful for an employer to interfere with, restrain, or coerce employees in the exercise of their rights.
Section 7 and 8 of the National Labor Relations Act prohibits spying on union activities, creating the impression that employees' union activities are being monitored, or videotaping employees engaged in peaceful union or other protected activities.
Audio recording: New York — a one-party consent state
In the State of New York, it is a criminal violation to use any device to record, obtain, share, or use communications, whether they are wire, oral, or electronic, without the consent of at least one person participating in said conversation.
Therefore, you are allowed to record a dialog if you are a partaker or if you get prior consent from one of the involved parties. Keep in mind that if the recording occurs in an environment with no expectation of privacy, these measures might not be necessary.
New York State Law, Article 250, designates eavesdropping, failure to report wiretapping, unlawful obtaining of information, and unruly surveillance (1st and 2nd degree), as offenses against the right to privacy.
The intentional overhearing and / or recording of communications can potentially lead to facing criminal charges under N.Y. Penal Law § 250.05.
In essence, a one-party consent state means, for instance, that employees can record their conversations with a manager without informing the other party. At the same time, leaving a recording device in an office to tape a conversation you are not a part of or aiming security cameras in the direction of areas that do have an expectation of privacy is illegal.
The need of a license
In NYS, people or businesses that install and maintain security systems need a license. This license is from the New York State Department of State (NYSDOS). Licensed contractors, like Security 101, carry liability insurance and warranty all installations.
A license ensures:
Knowledgeable installation with proper camera placement to keep your organization secure and compliant.
Safe installation to protect against electrical issues and camera failure.
Recourse through your state licensing entity if the installer does a poor job.
Protection against scammers, fraud, and criminals who use security camera installation as a cover.
Lawful use of video surveillance
Efficient monitoring is important to protect your employees and property. However, it is equally necessary to comply with New York's laws in order to avoid penalties and expensive liabilities.
To ensure your organization is abiding by the law, it is key to closely collaborate with an expert security professional, competent in protecting businesses with sophisticated video surveillance technologies and who knows in depth the specific laws and regulations at state and local level in New York (Long Island, Rochester, Hempstead Town, Brookhaven).
Don't risk
legal repercussions
Reach out to us now and schedule a consultation with our knowledgeable professionals. We will help you navigate the complex landscape of video surveillance laws effortlessly. Your business deserves the best protection!