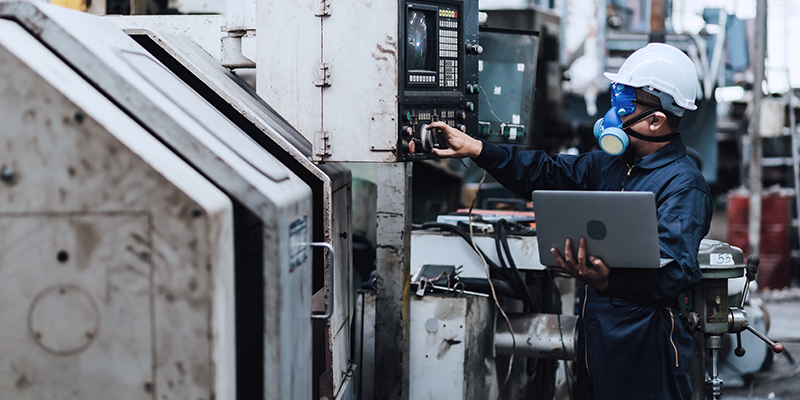 Avoiding invisible and odorless dangers has been historically a tough task for the manufacturing industry. Hazardous atmospheres often occur in confined plant spaces and storage facilities. On the other hand, many sites have their workers manage and handle risky substances on a daily basis.
Some of these chemicals are caustic cleaning solutions, battery acid, and flammable substances such as ethanol. In this scenario, ideally, operators are trained exhaustively on how to move, load, and manipulate these chemicals safely.
Importantly, gas leaks and atmospheric hazards are also threats that can lead to explosive consequences, physical harm, and the risk of fire:
Volatile Organic Compounds (ppm VOC).
Carbon Monoxide (ppm CO).
Nitrogen Dioxide (ppm NO2).
Oxygen deficiency. The normal volume of oxygen in ambient air is 20.9%, any less than that is alarming.
Ignitable gasses.
OSHA Guidelines
In narrow and constricted spaces, these dangerous gasses can asphyxiate workers by displacing oxygen which often results in death, expensive liabilities, and costly regulatory violations.
Within this context, The Occupational Safety and Health Administration (OSHA) has determined specific guidelines for manufacturing security managers to adhere to.
For instance, OSHA mandates that enclosed areas should be analyzed by technically qualified professionals using equipment of enough acuteness to detect and evaluate any hazardous atmospheres that may exist or arise.
Since gasses differ in density — which largely dictates where they are positioned —, air samples of the top, middle, and bottom of the area should be studied to ascertain with precision the gaseous substances present and their location.
OSHA recommends testing the area around the worker, namely four feet in the direction of travel and to each side.
Finally, it is critical to keep to a minimum the time it takes for a monitor to draw a sample, as well as for the sensor to react to gasses if they are spotted in the plant.
Sensors and IoT
Industrial gas sensors are essential for workplace safety as they can identify the presence of atmospheric hazards and measure their various properties in any industrial setting. When powered by the Internet of Things (IoT) they are equipped with a sensing surface that responds in intelligent ways to the presence of a gas.
They also provide plant owners and administrators with a detection system capable of conducting ongoing monitoring of high-risk areas. Once noticed, the system reports the presence of gasses to leaders and activates corresponding alarms to alert staff. These fixed detectors use different protective and communication technologies that can support even the most complex manufacturing facilities.
Atmospheric hazard sensor benefits:
24/7/365 surveillance of operating conditions.
Improved workplace safety by addressing the silent killer.
Greener communities by mitigating environmental pollution.
Enhanced asset management.
Augmented efficiency and profitability.
IoT sensors are not only changing the way data has been traditionally gathered and communicated, but they are also saving lives, avoiding disasters, reducing legal liabilities and punitive damages, and safeguarding manufacturing plants' equipment and assets by recognizing dangerous gasses in real-time, immediately notifying those in charge, and beautifully integrating with other physical security solutions.
Boost
efficiency and safety
Contact us today to explore how our tailored solutions can transform your manufacturing facility.