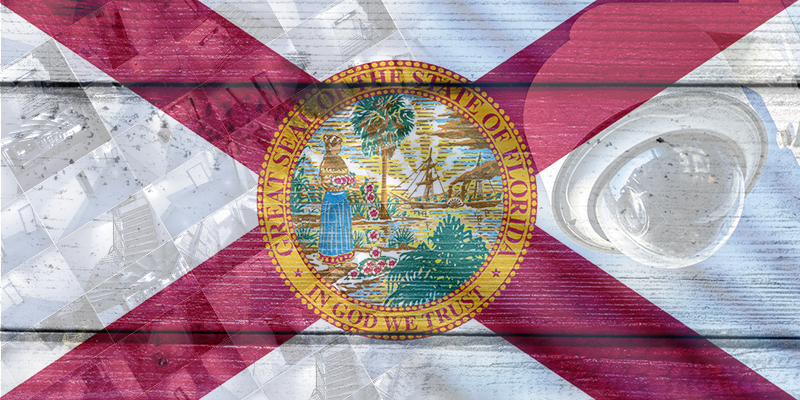 Undeniably, first-class video surveillance systems play a critical role in safeguarding commercial establishments from criminal activity. Nevertheless, it can be a daunting task to integrate appropriately and legally video cameras for security purposes in a building, particularly as surveillance laws are different in every state.
If you are considering upgrading your video surveillance system or installing a new solution for your organization in Florida, it is essential to know the state laws in order to take the appropriate precautions and fully comply with the statutes.
The benefits of utilizing video cameras cannot be overlooked. In fact, video surveillance has been the standard technology to enhance security across different verticals, by:
Capturing and storing vast amounts of data with high-quality images
Preventing employee theft
Preventing the risk of vandalism
Improving the perception of concern for human safety
Elevating employee productivity and business operations
Offering video evidence of any intentional vandalism or negligent actions
Being cost-effective and scalable
How to choose the right video surveillance system
Integrating the right video surveillance system and video cameras for your business requires the consideration of multiple factors. Besides pricing, professional deployment, type of cameras, type of storage, amount of storage, and level of customization; assessing the needs of the site and determining whether certain features (e.g., night vision, smart motion detection, and pan/tilt/zoom) are essential, should also be taken into account.
Moreover, video surveillance statutes in Florida must be understood and applied to the installation and usage of the cameras. An expert integrator can offer valuable insights and knowledge to help you and your business comply with the law in the Sunshine state.
An all-party consent State
States are permitted to pass their own laws pertaining to video surveillance. Florida's laws, specifically, differ from states such as Georgia, Delaware, Connecticut, Colorado, or Nevada in that all parties must consent to the recording or disclosure of the contents of any recording.
This indicates that it is legal for you to install video cameras in your business, in areas with no reasonable expectation of privacy, as long as:
There is a written notice clearly posted on premises stating that a video surveillance system has been installed for the purpose of security.
The presence of the video cameras is clearly and immediately obvious to tenants, employees, customers, or visitors.
Florida's law on video surveillance
The vast majority of jurisdictions criminalize nonconsensual videotaping. In Florida, deploying video cameras in the workplace is permissible under specific circumstances:
When monitoring and recording non-private common spaces, based on §877.26, 2021 Florida statute.
When video security cameras at entrances or exits are pointed in the direction of common areas.
When cameras are not installed in areas where people might have a reasonable expectation of privacy or can be expected to be in a state of undress, like individual units, bathrooms, locker rooms, etc. Video voyeurism is a serious criminal offense in Florida, according to §810.145.
When employers/property managers notify their employees/tenants/visitors of surveillance policies and show them which areas are monitored.
When cameras are placed in plain view of the public. Not only is this effective to deter criminals for fear of leaving behind evidence on camera, but it adheres to Florida's statutory provision regarding the visual recording of people/places.
When surveillance signs are openly posted on-site to indicate the presence of cameras. These notices can also elevate the impact of the monitoring system on reducing crime.
Video vs. Audio surveillance in the Everglade State
Just as Florida's law allows video surveillance only in certain areas, it does prohibit audio recordings in places where there is a reasonable expectation of privacy. Hence, it is recommended that special caution is taken when installing devices aimed at wiretapping.
In Florida, as stated by §934.0.3, it is illegal to record someone without their consent and knowledge, especially when there is an expectation of total privacy in places of work, banks, restaurants, retail stores, and others.
The all-parties consent law makes it a violation to intercept or record a wire, oral, or electronic communication unless all parties agree. Therefore, the best and safest approach to installing licitly cameras with audio capabilities is to work with a seasoned integrator to create a comprehensive surveillance program that obeys Florida's statutes entirely.
Invasion of privacy
In Florida, when there is an expectation of privacy, all parties have to consent to a recording for it to be legal. Consequently, secretly recording someone without their knowledge is a third-degree felony offense, punishable by up to five years in prison and an amount of recovery of $100 for each day of violation or $1,000, whichever is higher. Further, it can lead to facing civil penalties and punitive damages.
Fla. Stat. §934.10 also permits a Civil remedy, whereby you can file an Invasion of Privacy Tort against the person who secretly audio records you. A person has a reasonable expectation of privacy in their daily affairs as well as in events at their home — This is essential to understand by property managers and landlords. The claim also allows the plaintiff to recover reasonable attorney's fees and punitive damages.
The need for a license
Florida requires a state contractor's license to install surveillance equipment on public property. Licensed contractors, like Security 101, carry liability insurance and warranty on all installations.
A license ensures:
Knowledgeable installation with proper camera placement to keep your building secure and compliant.
Safe installation to protect against electrical issues and camera failure.
Recourse through your state licensing entity if the installer does a poor job.
Protection against scammers, fraud, and criminals who use security camera installation as a cover.
It is indispensable to closely collaborate with an integrator that is a specialist in protecting businesses with sophisticated video surveillance technologies and who knows in depth the specific laws and regulations at the state and local levels in Florida (Miami, Ft. Lauderdale, West Palm Beach, Orlando). Efficient monitoring is important to protect people and assets. However, it is equally necessary to ensure compliance with Florida's laws to avoid penalties and liabilities.
Take action
today
Security 101 is a leading provider of customized security solutions, trusted by businesses in healthcare, education, manufacturing, and government sectors. Our experts deliver advanced technology, tailored software, and professional services to meet your unique needs. Partner with us to safeguard your assets and create a safe environment, supported by our commitment to exceptional customer experiences.