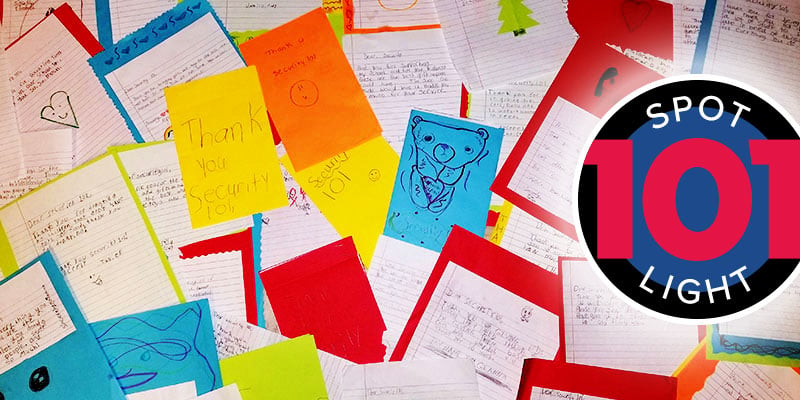 Security 101 puts a heavy emphasis on giving back to the communities we live and work in. Security 101's corporate giving program, Gift of Security, grows each year with more participating offices and reaches more lives by donating security systems to charities that need it. This month, we're shining the spotlight on the holiday spirit that was in South Florida. The South Florida offices comprising of Miami, Ft. Lauderdale, West Palm Beach and Tampa all owned by Rich Montalvo, got into the spirit with a holiday Toy Drive. Whilst planning their annual holiday party, they decided to put a charitable twist on it. Lead by the Director of Technology, Felipe Betances, the holiday party included a toy collection box for employees to bring in gifts of their choosing. Due to all the donations, a second collection box had to be set up on the fly to take all the donations.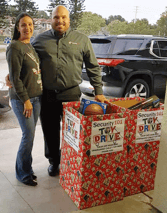 Felipe's wife, Aly Betances, (both pictured left at the dropoff) works at the Westchester Elementary school in Coral Springs, Florida, outside of Ft. Lauderdale. Some of the children at her school fall into the needy category, either due to losing their parents or being in foster homes. On the last day before their school break the children were surprised with the boxes of new toys that greeted them in their science classroom. The children knew they were donated by the employees and families of Security 101 and wanted to show their appreciation by writing thank you cards.
Felipe's wife writes numerous grants throughout the year to fund her science projects and constantly has the kids write thank you notes to the grant providers. Hence, writing thank you letters has become second nature to her school kids.
Below are some of the hand-written cards by the students. They'll put a smile on your face. Great job and thank you to everyone that donated from the South Florida offices!