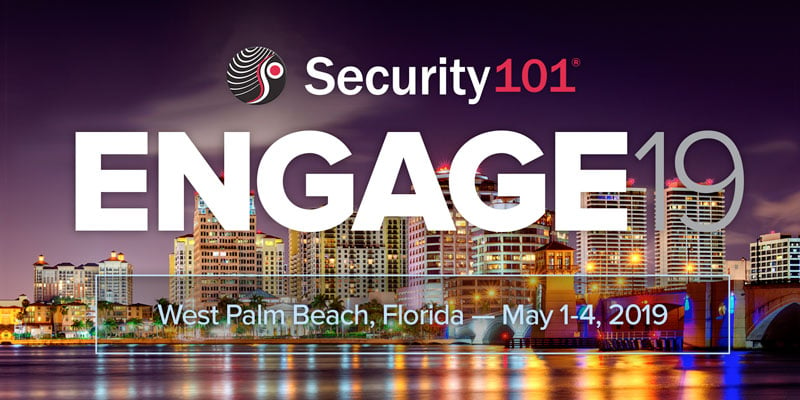 Security 101 ENGAGE-19, our inaugural company conference is complete. Franchise owners, employees and strategic industry partners all came together in South Florida for an amazing three days of keynotes, breakout sessions, showcase time, and networking. Let's recap!
West Palm Beach was only the natural choice to host Security 101's very first annual company conference where it all started, and not to mention—palm trees.
Connecting our industry partners, owners and employees made for a week full of networking, sharing of industry knowledge and insider expertise. To kick off a jam-packed three days at the West Palm Beach Marriott, Security 101 hosted a fun welcome reception with live entertainment by Mr. Trombone, and food stations galore. Attendees sipped on cocktails and mingled among our industry partners and Security 101 employees.
After a warm group welcome speech from CEO Steve Crespo, we were honored to be inspired by our first keynote speaker Mark Pattison, as he opened our Day one. Once main sessions for each day concluded, the attendees broke out into smart breakout sessions all afternoon. These classes were tailored to educate, inspire and share expertise. Based on the feedback received, our attendees certainly left feeling energized and equipped to take business to the next level.
Day two opened with an outline and future vision of the Security 101 Global Group by the President of the division, Carl Stark which then lead into our highly anticipated keynote speaker Scott Greenberg. Scott's presentation was focused on coaching TEAM101 on franchise specific subject matter to inspire our owners to be, well—GREAT! In addition he was able to provide some further detailed coaching courses during our breakout sessions which were in high demand!
Our two full days of Sponsor Showcase were weighted by our Platinum Sponsors, namely WESCO, AXIS Communications, Honeywell, ADI Global, Genetec. In addition, our Gold Sponsors were Transition Networks, Seneca, Brivo, BCDVideo, Altronix, Commend, Qognify, Assa Abloy, LifeSafety Power, Lynx Mass Notifications, 2N, and Tyco Security Products. A special thanks to all of our sponsors and industry partners, who helped make this conference so relevant and worthwhile.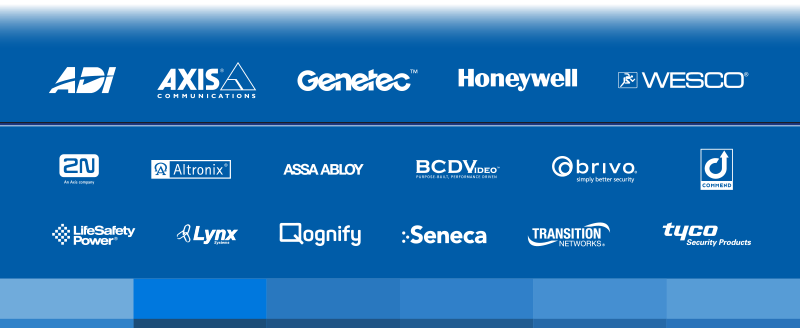 A highlight of the conference was certainly our owners-only panel discussion; which was full of the best thought leaders in the security industry, including the likes of James Marcella from AXIS Communications, Stuart Unger from WESCO, John Joyce from Genetec, John Sullivan from ADI, and Tim Baker with Honeywell.
Mission 500 was an action packed charitable effort on the final conference day, boosting team building and morale. The Security 101 team packed kits to be distributed to homeless veterans, in partnership with the Salvation Army from one of South Florida's local chapters whose mission is to provide shelter and services for veterans in need. Another charitable highlight was Security 101's very own Charlie Taylor, receiving a generous donation from Security 101 CEO Steve Crespo, for his unique and inspirational nonprofit organization Foundation of Strength which helps those with special needs receive one-on-one personal training.
Dinner at Jupiter Beach Resort was a well deserved treat, as attendees enjoyed outdoor dining and drinks accompanied by live acoustics and the ocean breeze. This laid back setting provided ample networking time for TEAM101 and was enjoyed by all.
Recognizing our outstanding sales and franchise achievements was a great way to cap the conference at the final awards banquet. And all the new owners dancing on stage to "Uptown Funk" set the tone for a great night. If you were able to attend ENGAGE-19, leave us your thoughts in the comments below!
With our inaugural conference being such a success, Security 101 is looking forward to what next year will bring. With a rapidly expanding franchise model, consistently opening new offices across the country—hosting next years conference can only mean new things, new people, new products and an exciting future ahead! Check out the photos below to some conference highlights!
ENGAGE-19 Conference Video Recap