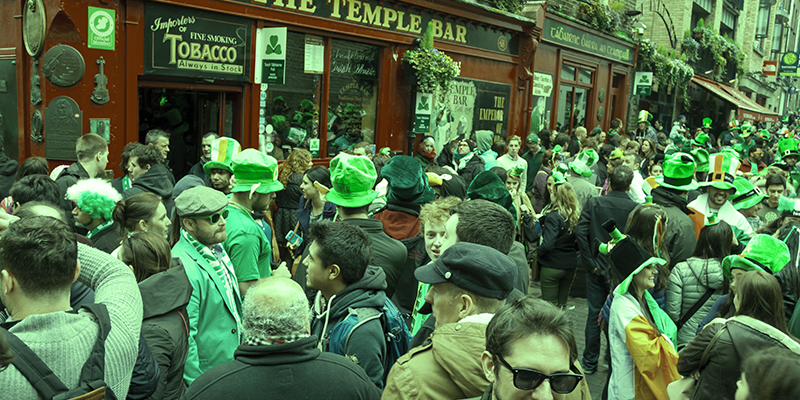 St. Patrick's Day is always an exciting celebration and a big business opportunity for bars and nightclubs. This Irish holiday, celebrated worldwide, commemorates annually the death of the patron saint of Ireland and the arrival of Christianity to Hibernia. Today, in the U.S, it is one of the most profitable earning days for the nightlife industry. However, as club owners design creative drinking games and menus that feature green burgers and beers, they face an important challenge: ensuring their ID verification procedures are reliable and effective.
Identifying which areas a bar can improve on is a necessary step to streamline operations, comply with regulations, and increase profits. That is why a modern way of letting patrons in and verifying their identity is vital, principally when it is unexpectedly easy for underage individuals to acquire fake IDs or use someone else's. Mitigating liability concerns is not the only advantage of reforming an outdated identity verification system. Importantly, a veracious way to confirm a customer's identity protects minors from engaging in illegal and dangerous drinking behavior. A study, published in the print issue of Alcoholism: Clinical & Experimental Research, determined that fake ID use is directly correlated to high-risk drinking by underage students.
The solution is a powerful digital identity system that uses biometrics. Aged-gated industries, like clubs and pubs, must guarantee their patrons are safe, no minors are present in the premises, and the entry process is as fast and automated as possible, especially for crowded days like St. Patrick's. Manual ID verification can be extremely biased, slow, and subject to multiple errors, which can lead to expensive fines, having the establishment closed by authorities, or even a calamity involving a juvenile.
The verification process can be improved by utilizing a mobile device, since it is already equipped with a camera or more, biometric ability, multiple sensors, internet, and the ability to run third party applications. Patrons can securely access the nightclub's website or app without providing usernames and passwords and get verified in minutes from their smartphone. The AI powered architecture is able to do liveness checks, verify documents, and optimize the business identity verification success rate.
In addition, a banned list can be added to the system in order to detect criminals or agitators as soon as their ID is verified, offering a first line of defense against crime in the establishment. Clients are also benefited. For example, contrary to providing a physical ID card to a bouncer and giving him access to more information than necessary, with biometric technologies, only the required data is collected.
Authentication of identity is an integral part of a nightlife business. Thanks to advances in technology, mobile ID verification is growing in popularity as the solution becomes more accessible and adaptable to the unique needs of an establishment. It is clear that protecting customers, ensuring the continuity of a profitable operation, and supplying a better, safer user experience, with the right security solutions, is vital for bars and nightclubs, especially during busy holidays like St. Patrick's Day.