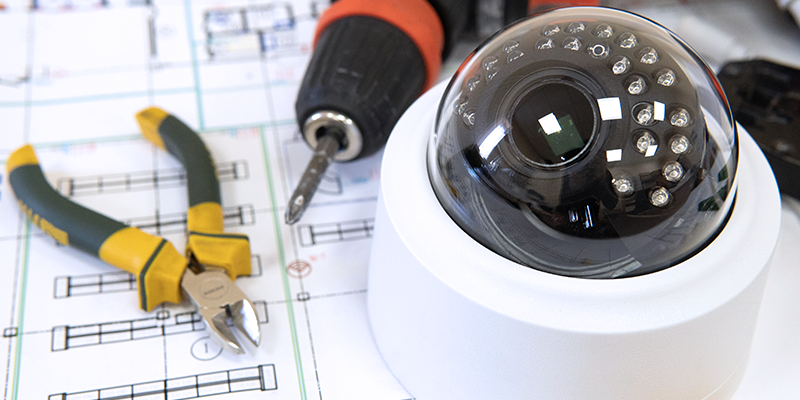 With rising crime rates in the San Francisco Bay Area, specifically in and around business and commercial districts, it's easy to understand why business owners are becoming increasingly cautious about their properties.
While entrepreneurs can't control the crime rates in the city, they can control the surveillance of their property. With commercial security surveillance in the Bay Area and a comprehensive video surveillance system, you can observe your property at any time and from anywhere. With wireless access and digital recording, business security has become easier than ever before.
Commercial Security Cameras San Francisco
The installation of business security cameras is a complex task, and you need experienced professionals to have all your security needs fulfilled in San Francisco, CA, and beyond. Security 101 is among the best companies in the entire security industry.
Multi-Site Commercial Security Surveillance Systems
Whether it is a big business or a small business, high-quality video monitoring has become imperative for all kinds of property owners. For large businesses, you'd naturally need to put "digital eyes" on several locations to detect intruders or any illicit activity in your commercial facility.
For this reason, you would have to install IP cameras or hybrid systems that provide all the features of quality surveillance systems on multiple sites.
Security camera installation in multiple locations can be complex. You would have to manage not only numerous cameras but multiple security cameras in different locations. You can only be in one place at a time, so how can you manage digital video recording in different locations? This is where remote access controls can help you.
Remote Access Controls
With remote access controls, you can view and monitor multiple sites simultaneously and have all your security needs met in one platform. Within multi-site security surveillance systems, you can significantly reduce your businesses' security vulnerabilities and keep your properties safe from outside intrusion.
To install an effective multi-site commercial security surveillance system with night views, you would need to have a professional installation done for you. Security 101 uses the latest technology to enable remote reviewing and archived footage. We are the one-stop solution to all your high-definition visual monitoring and video analytics needs in the San Francisco Bay Area.
Advanced Vulnerability Assessment And Protection For Business Security
IP cameras can be susceptible to interception and hacking. But there is no camera or digital asset in the world that is 100% safe from hackers and intruders. However, if you know the vulnerabilities of your cameras, you can take action to give them an extra layer of protection and keep your footage and property safe.
Advanced Vulnerability Assessment in the Bay Area
Advanced vulnerability assessment and protection can be helpful. It consists of conducting a vulnerability assessment to analyze the areas that are vulnerable to intrusion from outside elements. Security 101 can provide you with this service in and around the Bay Area.
If you require the assessment to meet your business needs and to develop an effective security plan to keep your commercial property safe, we are your best bet in the Bay Area. Security 101 is the solution to all your high-definition video surveillance system needs.
We strive to provide optimum commercial security solutions in the East Bay, the Peninsula, and in San Francisco itself, which is why we install all kinds of commercial security cameras and IP security camera systems in these areas. We give full access to business owners to allow them to manage the higher-quality video surveillance systems of their properties as they wish.
Video Surveillance System Integration
Hackers and other malicious actors are always evolving their methods to break into the security systems of businesses. But as they evolve, so do we. Security 101's research team ensures that our methods adapt to the new ways of hacking and that our technology is future-proof.
Our hardware and software are compatible with the existing and new systems that appear in the market. With our top-of-the-line engineering, designing, and installation, we are your best bet at having highly effective video surveillance systems.
If one unit is not enough to surveil your property, we will install an integrated system to keep eyes on every corner of your property.
Integrated Security Systems
An integrated system ensures that there are little to no blind spots on the property, and every part of the premises is under the watchful eye of a camera.
FAQs on Commercial Security Surveillance Systems for The Bay Area, CA
How do I know if I need CCTV?
Business owners have a lot at stake, which is why it is crucial for them to install CCTV cameras to ensure that their assets are protected from intrusion. CCTV can work with both an alarm system and an access control system and get activated any time it detects intrusion.
Can CCTV protect my valuables?
CCTV can come in handy if your commercial facility has physical and digital valuables. Installing a CCTV system would give you the peace of mind that your business is as safe as it can possibly be. Whether you own a small, medium, or large business, it's always a good idea to have some security cameras installed. The larger your property, the more cameras you will need. But if you're just starting out, one or two cameras might be all that's necessary.
How to set up IP cameras?
IP cameras are easy to install. You have to connect the unit to an NVR (network video recorder) via a network cable and get the system up and running, provided a router is connected to the NVR.
A single unit of IP cameras is easy to install, but if more units are involved, you would have to call the professionals. Integration is much trickier with numerous cables to connect. Therefore, call professionals even if you think that you have the skills to set up video surveillance cameras.
I already have an older security system, can it be upgraded?
Hybrid video recording systems use Hybrid video recorders (HVR). Hybrid systems use both IP cameras and analog cameras. HVR systems are extremely versatile. If you are upgrading your outdated security system but don't want to do away with your old analog cameras, an HVR system can help you transition to a full IP system in the future.
Many small businesses have benefited from mixing and matching their old security system with a more modern one, and so can you.
Can I view camera footage from my phone?
Many wireless systems and even some wired ones can be used remotely using smartphones. Access control has improved secure access and visibility for our clients. If you have more than one business outlet, it's likely that you would want to surveil all of them. With the remote viewing feature, you can keep a watchful eye on multiple sites and ensure that all your properties are safe from intruders.
To view the cameras from your smartphones, ensure that the cameras have the remote access feature. You can consult the manufacturer or the seller of the video surveillance system to ensure that this feature is present.
Can multiple users view one site at once?
It is possible that more than one person would like to view a site. This can be done depending upon the design and engineering of your security system. However, cameras in the video surveillance system have a limit on the number of users to log in because of bandwidth issues.
San Francisco Bay Area Surveillance Specialists Can Help
There's a reason we have been one of the most sought-after security system providers in San Francisco and across the U.S. We work with integrity and make customer satisfaction our top priority. This commitment has led to our immense growth in just two decades. We now have operations not just in San Francisco but also in 53 branches across the country.
For unparalleled security camera installation services in the Bay Area, contact us to get started. You can learn more about our services by connecting with our customer care. Contact us now to get the video security system installed and for the best integration solutions tailored to your business and organizational needs.
Robert Chamberlin
Rob Chamberlin is the founder and President of Security 101 – San Francisco Bay Area & Sacramento. Security 101 offers a full range of commercial security professional services to its business customers and helps to protect its client's people, ...