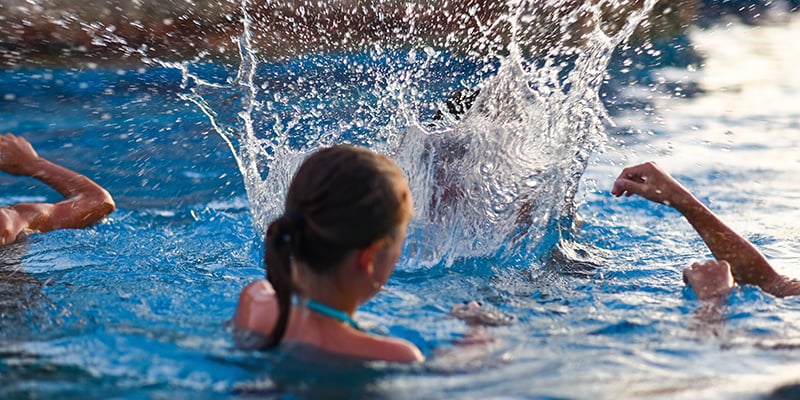 According to the CDC, drowning is the number one cause of unintentional death, with 390 deaths a year, on average, attributed to drowning in a swimming pool or at a spa. Although this data might be hard to believe, pool accidents are unfortunately common due to lack of swimming ability, reckless playing around the pool, excessive drinking, and parents not paying enough attention to their children. Now that summer is here, the risks are even higher. Pool owners and administrators need to proactively prevent and be prepared for a swimming accident with state-of-the-art technologies.
Current video camera solutions are able to protect swimmers by specifically preventing drowning, assist lifeguards in their life-saving abilities, and reduce expensive liabilities that might emerge as a result of a tragedy. In addition, lower insurance costs are expected, since insurance companies usually factor in how safely a pool is being operated to determine premiums.
Sophisticated cameras can be placed overhead and underwater to differentiate between normal and suspicious movement. For instance, swimmers doing laps is considered a normal activity and would not trigger an alarm. Contrastingly, if a swimmer begins to sink to the bottom, a camera will focus on the victim and sound an alarm in seconds to get human attention and help. The system is also able to provide an exact location of the incident.
Having digital eyes on pools strengthens the role of guards, especially when underwater vision is difficult, by quickly detecting a harmful situation and avoiding it from escalating into a major problem. The cutting-edge integration of dual overhead cameras and underwater cameras mounted on the walls of the pool, all operating simultaneously, can provide a complete, overlapping, and clear view of the water.
This unique technology can:
Differentiate if a person is fully or partially underwater.
Automatically adjust to changing conditions in the pool.
Assess movement in the water in real-time.
Other beneficial features for cameras include:
Motion detection: Especially if children or pets are regularly present, having a system that detects motion and alerts guards when someone goes near the pool is crucial to avoid an accident. Live video footage can be accessed from a mobile phone, tablet, or computer.
Night vision: To detect trespassers and unlawful activity during the night, video surveillance with night vision attributes is necessary.
Waterproof: Cameras need to be waterproof, especially if they are located close to the pool.
Preventing and getting prepared for a pool accident is eased when advanced solutions are implemented. The latest video technologies, overhead and underwater, can effectively enhance the safety of swimmers, lower insurance costs and help owners achieve peace of mind.