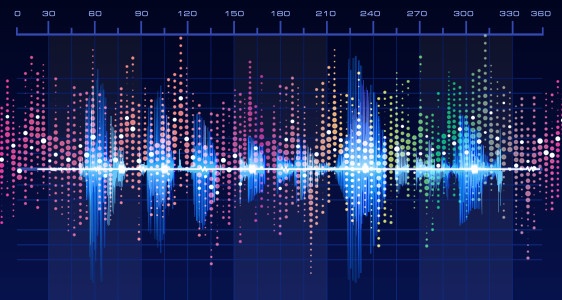 Intrusion detection devices such as door/window contacts and motion sensors continue to be an integral part of perimeter security systems, oftentimes alerting users and/or security personnel before any damage or harm is done. Integrating additional security elements such as video surveillance and analytics reinforce intrusion detection immensely, but sometimes unique situations arise that expose gaps in security that can still lead to the destruction or loss of property, assets, or even human life. Luckily, applications of sound detection technology installed within the entire security system can plug some of these holes to enhance the overall situational awareness of an organization or building.
Sound detection devices are a unique innovation that is able to recognize sound waves—a naturally-occurring analog function—and convert them into digital signals using powerful sound algorithms based off patterns within the audio signature that filter them out of any background noise. Once converted, these signals are processed to either trigger an alarm based on the criteria within the system or validate an alarm that was already triggered. Many of these "smart sensors" are incredibly sophisticated and highly sensitive, differentiating even the most miniscule variations in sounds amongst false triggers, such as the difference between a protective glass window cracking and a dropped ceramic plate shattering.
Sound detection technology is a unique force multiplier that can benefit a variety of situations where security may be compromised. When integrated with the rest of the security systems, sound detection can work either reactively or preemptively by sending alerts during or after a security situation or warning the appropriate channels about imminent security threats. Gunshot detection is an excellent example of a reactive sound solution growing in popularity—largely due to recent and extremely unfortunate circumstances—that is able to simultaneously pinpoint the location of gunfire and rapidly report the information to security personnel and/or local law enforcement. These systems are able to decrease reaction time and eliminate the factor of human delay, potentially saving lives. Other reactive uses of sound detection security include:
Scream detection: Even if emergency kiosks are installed in a parking garage or school campus, pressing the duress button sometimes may not be an option in the event of an attack by another individual; sensors integrated into these stations can place a call to security when a scream or shout is detected instead.
Safe/vault break-in detection: An application useful for high-security environments, sensors that can recognize specific tools or devices used to break into safes storing valuable assets serve as a last bastion of security if all prior measures are defeated.
A novel application within the category of smart sensors involves seismic detection, which focuses on vibrations traveling through surfaces, much like sound travels through vibrations in the air. This specific type of detection could be considered both reactive and preemptive, alerting occupants of a building to take appropriate cover seconds prior to the full brunt of an earthquake. Similar preemptive uses are:
Drone detection: Most drones, especially RC helicopter and quadcopter types, emit a unique buzz that can be matched to a database of common drone acoustic signatures so as to alert security personnel of public/private property where either the drone is trespassing or illegally recording video.
Graffiti detection: Devices placed high on exterior walls are able to detect aerosol can sound activity and interface with standard alarm systems, enabling law enforcement to catch graffiti artists in the act and saving property owners time and money removing the offending tags.
Sound detection technology has its benefits for many security environments but their applications tend to vary depending on the specific needs of the organization or property. Integrating these devices with the security systems in place provides a wider cast net of protection, but only if the sensors are property tested, as sound waves are incredibly directional and may be blocked or accentuated. Failure to properly test sound detection sensors, as with all security devices, can lead to costly—and potentially deadly—consequences.