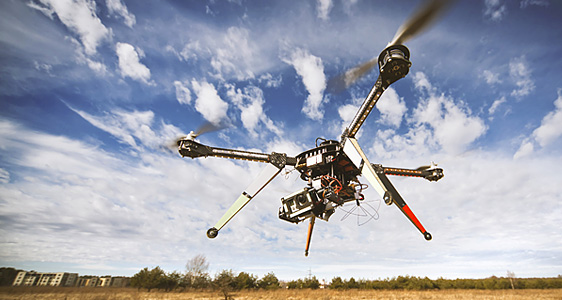 Unmanned aerial vehicles, more commonly known as drones, already provide border and port surveillance by the Department of Homeland Security, support public safety by law enforcement agencies, and help universities conduct research. Of course, many users of drones are simply for recreational purposes, but applications regarding video surveillance with regards to perimeter protection are on the horizon.
While video surveillance has made large technological strides thanks to IP/internet technology and video management software, a potential drawback is that the majority of surveillance solutions are largely static installations, even when outfitted with multiple PTZ cameras that can survey a wider field-of-view area. For security surveillance of large outdoor campuses or facilities, perimeters may become vulnerable to penetration due to a variety of factors, such as temporary obstruction of the camera's view by a large object or a subject being too far away for the camera to detect.
---
A growing demand is predicted for drone-enabled video surveillance for:
Large infrastructures, such as power facilities, water districts, and dams

Commercial/industrial areas, such as factories, distribution centers, and corporations with vast/multiple campuses

Areas with large land responsibility, such as agricultural or educational locations.
---
The rising trend of drone use remains controversial as the Federal Aviation Administration (FAA) has not yet set any regulations regarding their commercial use, but technically property owners utilizing drones for camera surveillance for their own private use is allowed as long as the drone does not fly in US civil airspace. An additional concern some may argue is that drones pose an invasion of privacy, but if used wisely, the benefits of drone use for surveillance would outweigh their negative aspects.
Consider the agricultural industry; it adopted drone technology relatively early in order to assist in data collection by capturing aerial photos and video footage to determine irrigation needs and to help plan harvesting. Investing in this technology allowed some pioneering farmers to save time as they no longer needed to traverse expansive distances for such tasks.
Imagine if drones could be mounted with infrared cameras to be able to detect intruders in the dark of night, or cameras with advanced video analytics that can determine whether an object in the far distance is a harmless animal or a suspicious person? These camera drones may also be able to wirelessly transmit footage to a remote central station—or even to an internet-connected mobile device miles away. Eventually, these technologies will converge and integrate so seamlessly that the drone surveillance system may become completely autonomous by utilizing preprogrammed flights, recharging stations, and automatically-transmitted alerts when suspicious activity is detected, essentially eliminating the need for any sort of human intervention.
Of course, there are many hurdles to get over until drones as video surveillance becomes more widespread, but there is no doubt that these exciting technology innovations are bound to make waves within the security industry in the future.