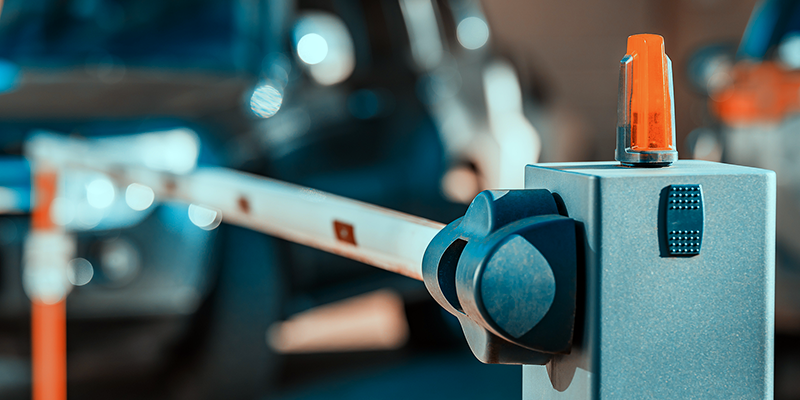 Tailgating is a common physical security breach in gated communities, in which an unauthorized vehicle follows an authorized one so close that it is able to enter the premise while the gate is still open. The consequences of tailgating can be detrimental for the community by hurting its reputation, increasing perceptions of insecurity among its residents, and physically damaging the gates.
There are several solutions that can help mitigate tailgating:
1. Speed bumps
Speed bumps are an inexpensive and simple way to reduce this issue, as it forces a gap between vehicles, making it hard for an intruder to enter the community without approval.
2. Cellular gate entry system
An additional solution is a recently developed access control system integrated with video surveillance, which allows residents to open the gate with their personal mobile device, permitting a touchless experience. Once the gate is open, gate cameras get activated and record all activity that takes place until the gate closes again. This can be a great deterrent for would-be criminals trying to enter the community.
To get the full benefit of this technology, however, it is necessary that a security team rigorously reviews the video recordings, that can be stored in the cloud, to actively monitor what occurs in every gate entry and respond effectively to a potential emergency. With this system, it is possible to search — and identify if Automated License Plate Recognition (ALPR) is being utilized — any unauthorized vehicles who entered the property by tailgating. If the community lacks a dedicated security team able to observe video footage, it is recommended to implement video-managed services.
3. Barcode decals
An efficacious solution to avoid tailgating is to use barcode decals which are a great, touchless alternative to Prox cards, remote control clickers, and key fobs. These are pre-approved credentials that contain a unique sequence of numbers for each residents' vehicle, therefore, it can automatically revoke access to unapproved individuals.
The process is simple: A reader operates on line of sight. When barcode decals pass the laser lines, they will be read and access will be granted if authorized. Sharing, losing, or stealing these affordable identification credentials is almost impossible, as they are fixed to the vehicle. Barcode decals can be integrated with access control and visitor management systems for optimal security.
When tailgating is a problem affecting a community, property managers are urged to consider the above solutions. Promptly acknowledging and addressing this serious security breach with advanced video surveillance, barcode decals, modern visitor management systems, access control, and speed bumps can result in happier residents, an increase in lease renewals, and improved sense of security.