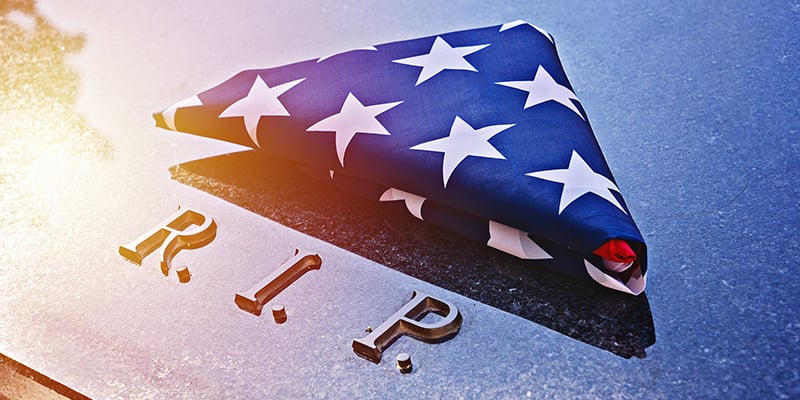 The National Cemetery Administration provides burial space for Veterans and their eligible family members and maintains national cemeteries as national shrines, sacred to the honor and memory of those interred or memorialized there. Sadly, the final resting place of heroes across the nation is often the target of vandalism and crime. Illegal activity in cemeteries has also been augmented by protesters and looters, who fight against the establishment and figures of authority, leading to the desecration of veterans' graveyards and the disbelief and frustration of the community at the outstanding disrespect of these precious places.
Many cemeteries are open to the public, which means that anyone has access to the headstones and memorials contained within them; and although most people visit burial grounds with honorable intentions, some individuals have insidious motives. Cemeteries are in need of adequate visible protection, and as much as security guards are the first option that comes to mind when trying to safeguard graves, manned security can be an expensive — and sometimes ineffective — solution. Guards are human and they may fall asleep during their shifts, especially at night; or they might not be in the exact location where a crime is being committed, as they patrol the burial grounds.
Physical security solutions are, therefore, a critical factor that can, without a doubt, impede the numerous and frequent attacks on graves. Cities and municipalities are urged to assess the security gaps in the public cemeteries of their area, get expert guidance from a professional integrator, and promptly adopt the technologies that can effectively increase the safety of national and municipal graveyards.
Firstly, cemeteries should have a clear maintenance program that allows qualified employees to quickly document and address risks and liabilities. The Broken Window Theory is applicable to the housekeeping and maintenance of cemeteries, as a well-kept graveyard is a significant deterrent and a clear sign to criminals that administrators are taking care of and paying attention to what occurs in their area. Burial grounds should also have signs asking visitors to remain on pathways and refrain from leaning against headstones. Equally important are fences, a vital first layer of protection against vandalism and theft.
More sophisticated solutions are alarms, motion sensor lighting, and CCTV cameras. Motion sensor lighting devices are crucial since graveyard crime tends to be higher during the night. They have a small electronic camera that detects movement from heat waves, which are produced when objects move in the FOV (field of view) of the sensor. When the sensor detects movement, the light will turn on and remain on until the movement stops. Good security lighting discourages would-be criminals from desecrating a graveyard, allows guards and cameras to have a better vision of a scene, deprives intruders of any hiding space, and boosts safety at night.
Further, cameras are effective at protecting national cemeteries. CCTV software enables real-time footage to be viewed remotely as an event occurs, without degradation of video quality and allowing graveyard managers to monitor the property even when offsite. Not only do cameras prevent crime, especially if they are visible, but they are incredibly valuable at collecting and providing evidence to help investigations.
Protecting national cemeteries is easier now than ever before due to the advanced physical security technologies at the fingertips of governmental leaders. With the guidance of security professionals, these solutions can be appropriately deployed in cemeteries to eliminate criminal activity and foster a peaceful final resting place for those who have served our country.