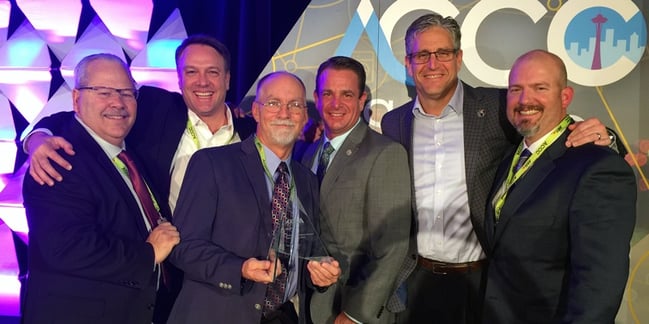 Each year Axis Communications recognizes the best of the best with Partner of the Year awards, which are presented during their annual partner event. Security 101® was named 2017 Banking & Finance Partner of the Year at the 12th annual Axis Connect & Converge Conference (ACCC) held in Seattle, WA.
Selected partners demonstrate exemplary success and loyalty to deliver innovative solutions that meet customer needs. We congratulate you on a great year of partnership and encourage you topromote this recognition with the following materials.
"It is an honor to bring together the top companies in our industry at ACCC and recognize those strong relationships and shared sense of leadership in providing innovative security and business solutions," said Larry Newman, Senior Director of Sales, Axis Communications, Inc. "Axis partners are not only part of the industry's largest professional network, but are also an extension of our team."

Axis is a leading manufacturer and invented the world's first network camera back in 1996. They have been innovators in video surveillance ever since, increasing the security of millions of people worldwide and helping to meet the growing need for a smarter, safer world.
Axis works with more than 90,000 partners across 179 countries at every stage, from distribution to installation, to offer end customers the best solutions for their specific needs. Axis' partner network includes the Channel Partner Program, the Application Development Partner Program, the Architecture and Engineering Program and the Technology Partner Program.
Axis Communications has joined our charitable giving program, the Gift of Security, for the second year. As program partners, we collectively donate $10,000 worth of integrated services and state-of-the-art products to 15 deserving nonprofits in our local office communities.
Voting will be open November 16 - December 8. and the winning organizations will be announced on December 11.
Corporate giving comes in many forms but our offices and product partner put their full support behind the Gift of Security program because it positively impacts deserving nonprofits by helping them improve their safety so they can stay focused on their mission. Not only does the award help the nonprofit winner in each city, it helps make the communities a safer place.
Former Gift of Security Winners