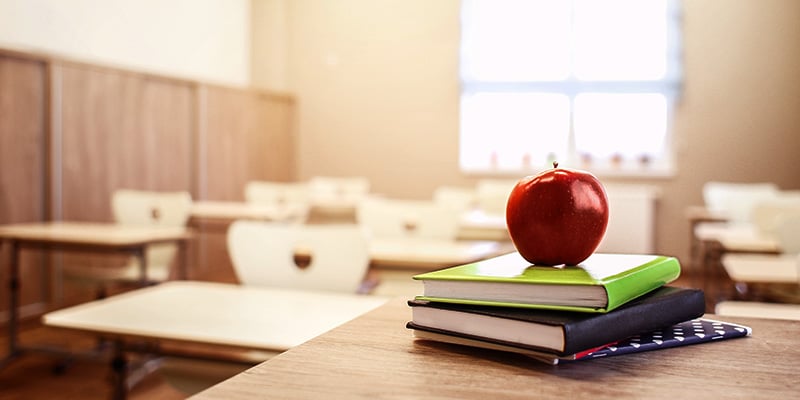 Keeping students safe while they attend school is a top priority. These days, threats are increasingly present in their day-to-day life. According to the FBI, 250 active shooter incidents occurred between 2000 and 2017. Thirty seven of those were Pre-K to 12. These are the top 5 ways to efficiently secure a K-12 building to prevent, or delay, a tragedy before it occurs.
1. Continuously assess risks
Building a safe campus is a continuous process and for security strategies to be effective, it is vital for everyone to be involved. Campus/district constituents, including faculty, staff, police/security, administration and the community at large should be included when creating a security assessment team. The group needs to identify strengths and weaknesses of the current security program. Review your current security technology, as well as safety and security related policies. Identify aspects of the security program that need improvement, then prioritize implementation of those needs.
2. Put an access control system in place
With electronic access control, you can more easily manage entering and exiting while improving security and safety. In an emergency, exit devices provide a safe way out of all doors, with re-entrance controlled by card access or other credentials. A security management system helps eliminate the need for mechanical keys and it can simplify access control management at all the buildings in your district. The system incorporates electronics, security integration and door hardware to improve overall security and safety. Every entrance and exit should be monitored through the ACS.
3. Implement visitor management procedures
Along the lines of access control systems, every school should adhere to strict visitor management procedures. Solutions include keeping doors locked during class hours and requiring all visitors to funnel through a central access point to prevent them from entering without notice. School administrators or security officers should visually inspect and interact with each visitor. Visitors should produce a government-issued identification card for the office staff to swipe through a visitor management system.
4. Install or upgrade security cameras
Video surveillance systems and other security camera devices tie together video with access control. You can customize the system with pre-determined actions based on specific events to allow controlled access to buildings and campus environments. Sophisticated security systems are getting cheaper, putting enhancements like perimeter surveillance camera systems and fully wireless IP CCTV systems within reach of all building sizes.
5. Install an IT infrastructure
An IT infrastructure allows you to integrate all the buildings in your district into a centralized network. Typically, security management systems include access control, video surveillance and door alarm monitoring on one platform. A district command control center allows security personnel to monitor all sites and gain more control over the security and safety of the campus or district.
Conclusion
Each school and district is unique and choosing the right security measures are different for each one. Security 101 utilizes the best and latest integrated security solutions, such as gunshot detection, access control, video surveillance, video management systems, and mass notification to secure student environments. These solutions can help mitigate the risk of, and improve the emergency response to a variety of security issues.