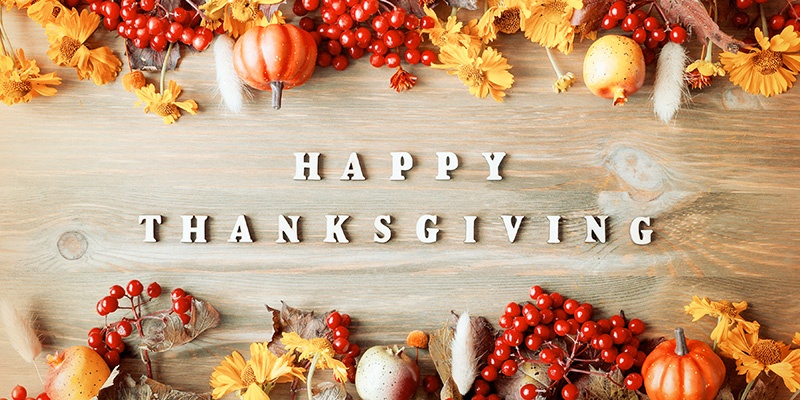 As we reflect over the year in the spirit of Thanksgiving, we want to say thank you. Thank you to our owners, employees, customers, partners, and everyone who makes Security 101 what it is today. All of us at Security 101 are thankful to have a healthy and diverse company culture, outstanding customers and the ability to provide security solutions with the help of phenomenal product partners.
What are you thankful for?
"I am thankful for my family and friends! I am so very thankful for our "work family" who consistently works hard to make Security 101 great!" Steve Crespo, CEO
"I am thankful for all of the fantastic owners and employees that are a part of Security 101. I am also thankful for my family that allow me time to work for a great company and spend so much time away from home helping our Franchisee's build their businesses." Michael Walton, COO
"I'm thankful for family, friends, and freedom. I'm thankful for challenges. They have made us who we are today." Carl Stark, President & General Manager of Global Accounts Division
"Orlando is thankful for all its employees and customers that have been with us for these 10 years of business. We are also blessed and thankful we are able to give back to our community again this year with the Gift of Security." Ross Manfredi, Security 101 - Orlando co-owner with Ross Linville
"I am sincerely grateful for my amazing husband, incredible children and of course my Security 101 family. The true blessing is contentment with everything I have without want for anything else". Heidi Page, Global Branch Coordinator.
"Bacon and Security 101. I'm grateful to the company that employs me and allows me to bring home the bacon." Monty Smith, VP of Franchise Development
"I'm thankful that I found Security 101 and for everyone involved with training..." Gary Kopp, Security - St. Louis, Owner
Gift of Security
Around the holidays each year, we launch our corporate giving program, which you might have heard about. It's only one way we give back. Our offices give continuously throughout the year in their respective communities. We're proud of the culture we've created that makes giving back part of our daily routine.
To learn more about the Gift of Security and to check out the finalists in your area, read our last blog post. You can vote for the grand prize winner in your area and get inspired by what great nonprofits do for those that need it most.
Happy Thanksgiving
We wish you all a happy and healthy Thanksgiving! We advise wearing stretchy pants to dinner and getting full, but not stuffed like the turkey, so you have room for leftovers the next day. And don't break any bones playing in your annual family Turkey Bowl.