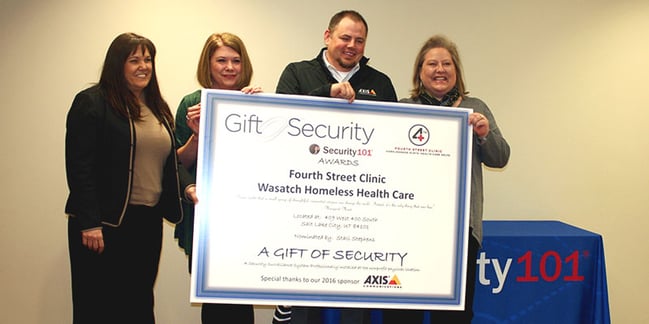 In the Gift of Security's fourth year at Security 101 - Salt Lake, local non-profits were nominated for consideration by the panel of judges. The local judges then selected their top three non-profits and opened the voting for the finalist to the community. The community then chose from these three finalists to determine one winner. On February 4th, Security 101 officially announced the winner of the Gift of Security at Security 101 - Salt Lake.

The 2016 winner of the Gift of Security at Security 101 - Salt Lake was Fourth Street Clinic, a local non-profit that helps homeless Utahans improve their health and quality of life by providing high quality health care and support services. On February 26th, Security 101 - Salt Lake headed over to Fourth Street Clinic to celebrate their new video surveillance system from Axis Communications.
The ceremony was held in Fourth Street Clinic's conference room and Pamela Atkinson gave a speech to start off the ceremony. She took time away from speaking at the current legislative session specifically to honor Fourth Street Clinic and stated that it held a special place in her heart as she was on the founding Board of Directors. Pamela finished her speech by stating that she wished all business would have programs like the Gift of Security and that when she got back up to the capitol she would make sure that they knew about the amazing work that Security 101, Axis Communications, and Fourth Street Clinic are doing.
Then the ceremony heard from Rob Oldham with Axis Communications who spoke about Axis's drive to help local communities and stated that he would do everything he could to secure additional cameras above Axis's original sponsorship to ensure the clinic was safe. Nancy Ford, Security 101 - Salt Lake owner, then joined Rob on stage to present the Gift of Security award certificate.
Laura Michalski, CEO at Fourth Street Clinic, and Laurel Ingham accepted the certificate on behalf of Fourth Street Clinic and their patients. Laura spoke about her competitive nature and efforts to get the votes in, as well as how much this meant to the clinic. Currently they have a couple of cameras that can only capture a blurry image.
Nancy Ford closed the ceremony and spoke about corporate responsibility, community responsibility, and the Gift of Security. She states, "As Utah's non-profit organizations strive to provide a safe environment for the clients they serve, it has become challenging because donations need to be primarily directed to providing critical services for the growing population in need. This challenge leaves our most vulnerable citizens at increased risk. We are dedicated to making our community safer for everyone."
Security 101 - Salt Lake plans on continuing to develop the Gift of Security program and renewing the program in 2017. To get in contact with Nancy and the rest of the Security 101 - Salt Lake team: click here.