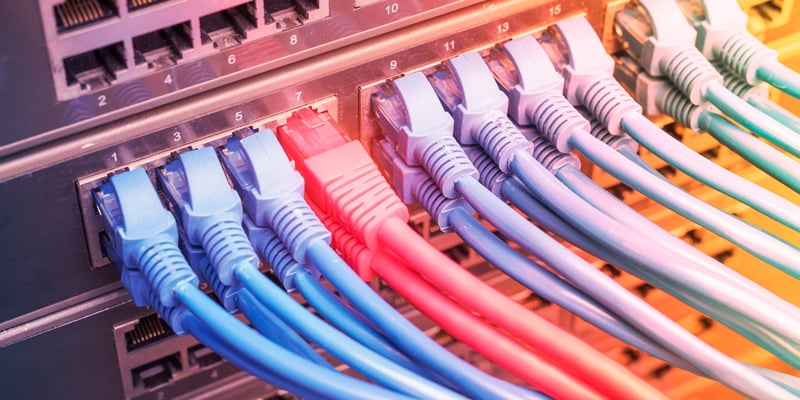 Today's major corporations have multiple sites, each with potentially a dozen or more security systems. Corporate officials most often prefer to converge these systems onto one large enterprise computer network. That becomes a challenge to marry disparate systems requiring varying degrees of access, bandwidth and cybersecurity. That challenge is often met through the creation of sub networks known as Local Area Networks (LANs) and Wide Area Networks (WANs).
A LAN is a computer network encompassing a relatively small area — usually a single building or group of adjacent facilities. Typically, IT professionals create separate LANs for systems that are bandwidth hogs, such as video. However, less data-intense systems such as access control may co-exist on the same LAN. In most cases, a WAN will consist of two or more LANs that span a larger geographical area.
Behind all of the surveillance cameras, access control panels, intercoms and their networks are two relatively inexpensive pieces of equipment – the switch and the router – that create and link all of the LANs and WANs into the enterprise network.
Switches offer capabilities for sorting and distributing network data packets sent between devices on a LAN or WAN. A packet not only includes data, but also its destination address. For instance, switches identify the intended destination(s) of received data, such as video, sending that information only to those devices that require it.
A router has two major jobs. The first is to ensure that information is successfully delivered from one network to another. The second is to see that other connected networks don't receive unnecessary information. Otherwise, overloaded LANs and WANs could crash.
So how do these devices all fit into a modern enterprise-based security system?
For one thing, switches can play a major role in helping organizations still employing analog equipment, such as surveillance cameras, make the transition to a totally IP system. A switch-based LAN moves the video through converters that digitize the data for recording and viewing across the network. As analog cameras fail, they can be replaced with IP-based models until the system is fully digital. This helps protect legacy investments and allows for a planned upgrade that fits corporate budgets.
Routers are not only necessary within an organization's network — they also connect to the tens of thousands of other networks worldwide to create the internet. That makes routers absolutely critical for logging in and remotely viewing security video or reviewing access audit trails from across a city or from another continent.
Integrators add value by helping customers understand how security can be networked in different manners to increase operational value and reduce costs. A proven and experienced integrator will be able to work seamlessly with the corporate IT department to help create and maintain the required LANs and WANs that keep the enterprise network operating at its peak.
And, remember, none of these grand, complex plans would be possible without the lowly switch and router.
To learn more about Security 101's network capabilities, contact the office nearest you.