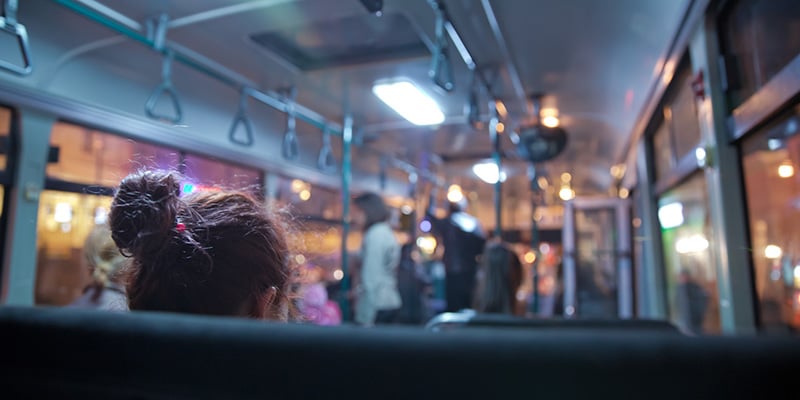 Mobile video surveillance has come a long way in a short time. Today, thousands of metro and school buses are fitted with surveillance cameras capable of transmitting real-time video to a security operations center.
Until very recently, limitations in bandwidth and data transmission speeds required video to be recorded to an onboard DVR and downloaded when the bus returned to the yard at the end of the day. Now, the combination of IP-based cameras, wireless networking and 4G LTE connections make it possible for security staff and first responders to monitor assaults, bullying, theft, accidents and issues while buses are on the road.
Most bus video systems still record images to an onboard DVR in case of a break in the communications system. The DVRs enable drivers to press a button near the wheel to mark video for later review. Generally, systems aren't monitored 24-7. Instead, security officials or first responders watch the live stream only when notified by the driver of an emergency situation.
The typical number of cameras per bus varies, but most systems monitor passenger entries and seating areas; the driver; the road ahead of the bus; and vehicle perimeters. School buses may add another exterior camera to capture the license plates of cars illegally passing a stop-arm as the driver picks up or drops off students. Many video systems also add audio capabilities.
In addition to protecting drivers and passengers, mobile video systems may also greatly reduce fraudulent liability claims. One large eastern U.S. transit agency with millions of passengers annually provides a good example. Following a minor scrape between a bus and passenger vehicle, the bus driver stepped outside to inspect the damage. While the driver was away two people boarded the bus and positioned themselves in seats as though they had been hurt during the event. The video clearly showed that was not the case.
That, combined with video from other buses, helped to successfully prosecute nine people leading a criminal ring that hired people to fraudulently claim injuries suffered on a local bus. Before cameras were installed it wasn't unusual for the transit authority to write checks to settle a claim, rather than take on the cost of court hearings. The resulting savings are quickly paying for the cost of the system.
Transportation officials count on mobile video as a valuable layer of security. Many light rail and subway systems are also adding similar real-time video systems to their passenger cars.