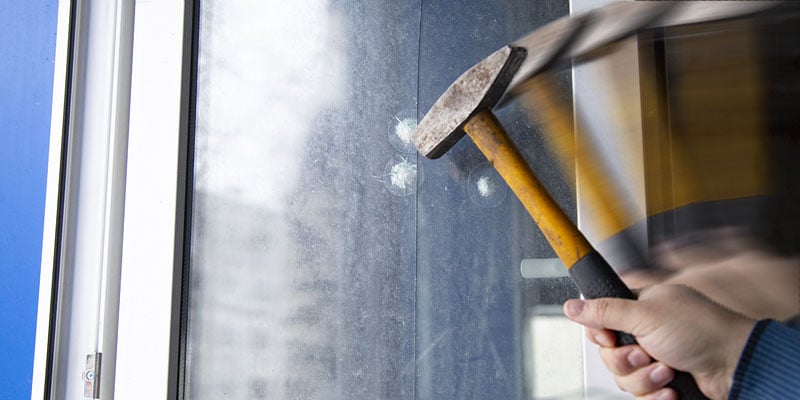 Whether you are trying to protect your building from potential criminal activity, an industrial accident or the threat of a hurricane, adding security film to your windows (in addition to an integrated electronic security system) is a cost-effective, yet powerful way to create an additional line of defense between your property and the many threats out there.
Security film consists of one or more layers of polyester film. They are then overlaid together with potent sealants. The end result is a film ranging in thickness from about 4 millimeters to 15 millimeters or even more. The thicker, the better. The engineered film basically keeps glass from shattering upon impact.
How can your property benefit from adding Security Window Film?
Building owners, property managers, and real estate developers understand the critical role of safety. Adding security film will, in fact, make your property safer, but will also maintain the aesthetics of the premises as it can be completely undetectable while offering the same view outdoors. Nevertheless, there are more advantages to it than just keeping you from placing unsightly bars to your windows.
It protects your building from robbery
The statistics about break ins are important to consider. 95% of all home assaults are done via some sort of forceful entry like breaking a window, picking a lock, or kicking a door. If you are the one looking after the safety of the property, it is imperative to be proactive rather than reactive. Other benefits are:
Guarantees the glass is not penetrated, even when hit by a heavy object.
Keeps the glass in place, even if it breaks.
Discourages intruders — as "trying again" can call attention to themselves. Security film makes your property a hard target.
A shield against disasters
Wind, rain, or flying debris entering the building during weather phenomena, will be a thing of the past by adding security film to the windows of your real estate. Left unprotected, flying glass can leave your lessees at risk to injury. Because the film holds glass fragments in place and ensures that glass does not shatter, you are proactively reducing the risk of potential injuries and minimizing the damage of the premises under your charge. Certainly, this kind of protection is needed in times of natural disasters as well as during industrial accidents, explosions, and even terrorist attacks.
Injury and vandalism protection can be granted by installing the right Security Window Film. With it, it's possible to transform a structural vulnerability into a strong point in your property.