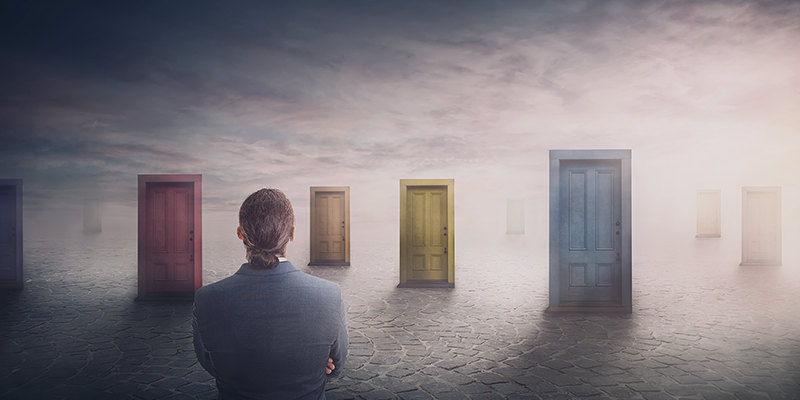 Whether you are a small business, a medium-sized company, or an enterprise-level corporation, security measures are critical to ensure your business can safeguard its assets and operate with confidence. However, security systems are not just for warding off intruders. To check that business operations are running smoothly, businesses also utilize video surveillance to monitor employees and specific areas inside and outside of a building.
For example, many retail stores and businesses in the hospitality industry use a video security system to monitor customer traffic and ensure that workers are performing their jobs adequately. In addition, other security system features such as monitored alarm systems and security sensors offer business and property owners the ability to identify critical breaches or intrusions.
With the plethora of business security solutions on the market today, it can be a challenge to find the right security system that best fits your needs. As a starting point, determine what kind of hardware you are looking for. This can include surveillance cameras, control panels, motion sensors, scanners, detection devices, etc. Above all, consider whether or not the security system aligns with your budget and has the kind of customer support you are looking for.
What to consider when choosing the best security system
The most optimal security system for your business depends on a couple of factors, such as business size and what needs safeguarding. A small brick-and-mortar store can do well with a set of door sensors and a couple of video surveillance cameras. But a larger company with several hundred employees would require a commercial-grade security system that may include components like highly sensitive motion detectors, omnichannel video surveillance cameras, intercoms, keycard readers, fingerprint scanners, smart locks, master control panels, and alarm systems.
A reliable and effective business security system increases overall security, deters theft, improves employee accountability, and protects business and property owners from false liability claims. For many businesses, a best-in-class security system is essential to keep a high standard of safety and operational integrity. Many business security providers offer consultations (before installation) to help clients decide which equipment will best serve their business security needs in the most cost-effective manner.
Modern security systems for businesses
Since every business is different, security needs will vary. It is highly recommended to consult with a security provider first to get a good understanding of the security products they offer. Many companies utilize security audits in and around the premises of properties to determine the specific needs of a space and address existing security concerns. The most commonly used business security systems are:
Access control systems
A specialized system that provides entry only to registered personnel having the authorized credentials that can unlock a door. They are used to safeguard entry to office buildings and commercial areas.
Security cameras and video surveillance
An array of cameras is installed in both high-traffic and low-traffic areas of a business or commercial space. These video surveillance systems assist security teams (either onsite or remote) to see what is happening in or outside a property.
Alarm systems
Security systems are designed to notify personnel of a breach, theft, or other intrusions that occur within a property. These alarms can be directly connected to electromagnetic doors or other door security systems.
Sensors
A device that detects and responds to physical movement in its immediate environment. Door contact sensors notify a property owner when a door opens or when it is left open.
Emergency and fire safety systems
To ensure proper fire safety and evacuation protocols, these systems are put in place for the safety of personnel. They are used when a fire hazard or other emergency is present within the building.
Cybersecurity systems
To protect proprietary information and data, many businesses choose to add security to their networks. Cybersecurity systems often include anti-virus software, data encryption, website traffic monitoring, and firewall protection.
Four factors to keep in mind before installation
Some security systems offer an all-in-one experience that provides a property or business owner with a whole suite of features. Other systems focus on a specific type of technology that targets only one area of security concerns. To make the right security decision for your business or property, here are four key aspects of a business security system to look for when comparing different commercial security integrators.
Interoperability

Refers to how easily a new security system can connect to other existing building systems already installed on the property. Interoperability gives businesses greater flexibility to customize and adapt their security systems over time.

Ease of installation

When consulting with your commercial security provider, it's important to be aware of the process that goes into installing your new business security system. The more elaborate and complex the system is, the more time it's going to take to install and test. However, some security systems are DIY-friendly, which means they can be installed by a non-professional with the help of an instruction manual.

Cost of maintenance

After the up-front costs of installation, be aware of the long-term maintenance costs of your new business security system. For any systems on-site, compare the fees for regular maintenance as well as the costs for any future software upgrades. Some security providers also include subscription services in their products, be sure to review the monthly costs for these as well.

Customer service

Customer support is an integral part of any business security infrastructure. Technology can act up or experience system glitches. It's important that your security integrator has a technical support team that can resolve any system issues. Check out reviews on Google or Yelp to ensure that the business you're partnering with will meet or exceed your long-term expectations.
Customized surveillance and security features
Most businesses today are looking for the best security systems on the market with features that adequately serve their security needs. An alarm system, video surveillance, and sensors are just some of the requirements for best-in-class business security. However, most installations are very often customized to meet the needs of the property.
For example, some business owners may desire a robust, fortress-like security system carrying the most advanced technology with 24/7 professional monitoring. Others may focus on more budget-friendly solutions on a smaller scale that offer DIY installation guides. For the best-informed decision, schedule a consultation with a qualified commercial security provider to discuss which products and services are right for you.
Installation and monitoring
After investing in a new security system, it will need to be installed in specific areas at your place of business. Some equipment is so easy to install that a non-technician can set up the system. In the case of more complex configurations, a professional security installer is required. At the beginning of most professional installations, security hardware is integrated with a control panel or command center in which authorized personnel will be able to control and manage the security system. Some security manufacturers also have proprietary apps that enable users to monitor and manage the security system remotely.
Technology can experience mishaps and a broad array of performance issues and that is why it's essential to constantly monitor and maintain both security hardware and software components. If you deem it necessary, replace damaged or failing systems and download the required system updates when prompted by your company's security provider.
On-site or remote panic buttons
Some business security systems are completely autonomous and can operate all on their own with limited personnel. This type of system is very helpful for businesses specializing in big operations such as logistics. On the other hand, a more hands-on approach is needed for other circumstances depending on business needs. Staff can be trained on how to use alert systems such as panic buttons in the event of a break-in or other emergency.
How much does a business security system cost?
The cost of a business security system depends on the size of the facility that needs coverage and the capabilities of the system itself. Pricing can range anywhere from a few thousand dollars to tens of thousands. Enterprise-level systems with the latest technology cost even more and may require a custom pricing option.
In general, there are three costs involved when purchasing a new business security system:
Hardware costs - the physical components that a security system requires to function.
Installation costs - the process of making hardware and software ready for your use.
Alarm monitoring costs - an alarm system service that immediately notifies a security company's response center if the alarm is activated.
Monitoring costs to keep in mind
If you decide to opt for an alarm monitoring service with your new security system, expect to pay anywhere from $10 to $200 per month (however, this depends on the provider and service package you select). You will also notice that many security providers do not have pricing plans displayed on their websites. This is because final pricing can vary widely from client to client.
In most cases, you will fill out a form to get a quote or contact your provider's sales department for more details. Many financing options are available to assist you in paying for your new security system, usually on a monthly payment plan.
Security system placement and area of coverage
Video monitoring is an important part of a business's security plan. Business security systems can deter theft by employees as well as customers and can act as early-warning indicators of suspicious behavior. To take full advantage of your security system and protect your business, place your security cameras in these key areas:
Exits and entrances: Surveillance cameras placed at the entrances and exits of buildings allow you to track who enters the property and how long they stay. Cameras placed at these vital points can capture a clear image of a person's face.
Points of sale: Your security system should be able to oversee cash registers and other areas where business transactions take place. As a rule of thumb, when mounting cameras in these spots, make sure the cameras are pointing at the place where a customer or employee would stand or walk through.
Exterior: A property's exterior is one of the most common areas to place a surveillance system. Security cameras outside can oversee a wide range of static objects and objects in motion, such as cars in a parking lot or walking pedestrians. For logistics and manufacturing companies, exterior camera systems are useful in monitoring loading docks and keeping an eye on the license plates of trucks.
Secluded or remote areas: Surveillance systems are not only designed for high-traffic areas where there is a lot of movement. Cameras can be proven useful in places that are rarely visited by the public, such as rear hallways, maintenance rooms, and other areas.
What makes a high-quality security system?
Whether you are a small business or large corporation, security should be a top priority to ensure the protection of important assets and the safety of personnel. A high-quality security system can assist in managing security concerns such as preventing theft and monitoring logistic operations so you can have peace of mind and focus on running your business.
Video surveillance capability
The most important part of a high-quality security system is access to high-definition video footage that you can look back to in the case of an intrusion or other issue. In the event of a crime, HD video can help identify potential suspects and provide proof in an insurance claim. Some security camera systems conveniently have mobile apps that can be remotely checked from a smartphone or computer.
Intrusion detection ability
If there is an event of broken glass from forced entry or an active fire due to arson, your security system should have intrusion detection built-in to sound an alarm. This feature can alert local authorities or a contracted guard service to the premises where the incident occurred.
Access control systems
A physical key still holds its utility, but it's an aging security method in the era of advanced security and access control systems. Keys can be duplicated, but electronic access controls such as modern key fobs, key cards, and biometrics cannot. As an additional barrier to unwanted entry, pairing an access control system (including video intercoms on external doors) with your video surveillance equipment for optimal business security is recommended.
24/7 system monitoring
Lastly, a high-quality security system is capable of 24/7 video surveillance, so you'll want to invest in a monitoring solution that carries a substantial amount of video memory. With the right system in place, your business will be protected all year round. High-capacity video surveillance systems can record weeks and months of video footage that will come in handy whenever you need to examine video of an incident or emergency that occurred in the past.
Robert Chamberlin
Rob Chamberlin is the founder and President of Security 101 – San Francisco Bay Area & Sacramento. Security 101 offers a full range of commercial security professional services to its business customers and helps to protect its client's people, ...