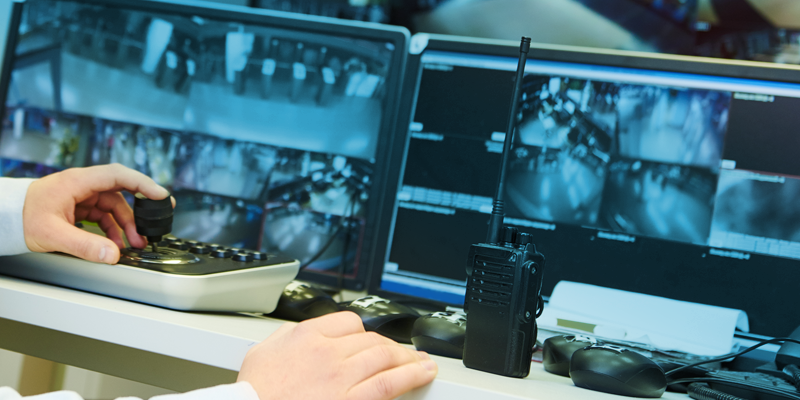 Security 101 is well known nationally for its expertise in commercial access control and video surveillance installation and management. For many businesses interested in protecting their people, property, and profits, a fully integrated approach to security is critical, and that should include professional security monitoring.
Professional security monitoring is typically provided by a certified alarm monitoring center contracted to support the security system installed at your business. An alarm monitoring center employs highly trained professionals to respond to alarms and tripped sensors within a building and on your commercial property. After reviewing information from your security system, the monitoring center will notify you of an incident (often by text message to streamline communication) and dispatch authorities as needed to respond to a verified incident. Whether it is broken glass, an open door, or video surveillance footage of an intruder, commercial alarm monitoring centers work with business owners and/or managers to provide 24/7 surveillance and support of commercial properties of all sizes.
We typically consult with our customers to set written guidelines on what to do when an emergency alert is received at our monitoring center. Emergency action guidelines vary for each of our business customers. A thorough understanding of your business, combined with our security expertise, allows us to collaborate to develop the best possible response plan in the event of an incident.
We can create multiple customized protocols, each designed to deliver you the ideal response in multiple scenarios. The point-of-contact person can vary depending on the situation. You can designate several people from your staff based on the location of the business, day of the week, and/or time of day.
There are some scenarios, however, in which small business owners may choose to self-monitor their property. This approach is problematic for many reasons, but many modern security systems do provide tools like live-streaming video and mobile notifications that enable some self-monitoring of the premises. Most security professionals would agree that these valuable technological resources are helpful to provide peace of mind - but should not be used as a substitute for professional monitoring services.
Professional, commercial alarm monitoring solutions should provide the following tools to ensure that your business is protected 24/7:
Mobile notifications and tools
Most modern commercial security systems allow owners or managers to view live-stream video, alarms, and other status notifications via a smartphone app or online. This allows for remote, on-the-go monitoring of security measures and can be helpful to verify the system is engaged, doors are locked, and the premises are secure.
Live stream and video verification
If a video surveillance system is installed at your business location, the video footage from the cameras can be monitored and displayed both on-site and remotely. Most modern video surveillance systems allow video feeds to be viewed either via live stream on a mobile app or through a computer desktop. Video verification occurs when snippets of video are sent to monitoring stations and used to verify a tripped alarm or another security concern. These can also be sent as high-resolution images and later used to identify and prosecute a crime that occurs on your commercial property, or to support an insurance claim.
Professional monitoring
As previously mentioned, this is the preferred approach for securing your commercial property. A professional, certified alarm monitoring center will provide 24/7 surveillance and services for your business, responding to alerts from your commercial security system, verifying concerns, and working with business owners or managers to dispatch authorities immediately, helping to minimize property damage and loss.
Robert Chamberlin
Rob Chamberlin is the founder and President of Security 101 – San Francisco Bay Area & Sacramento. Security 101 offers a full range of commercial security professional services to its business customers and helps to protect its client's people, ...