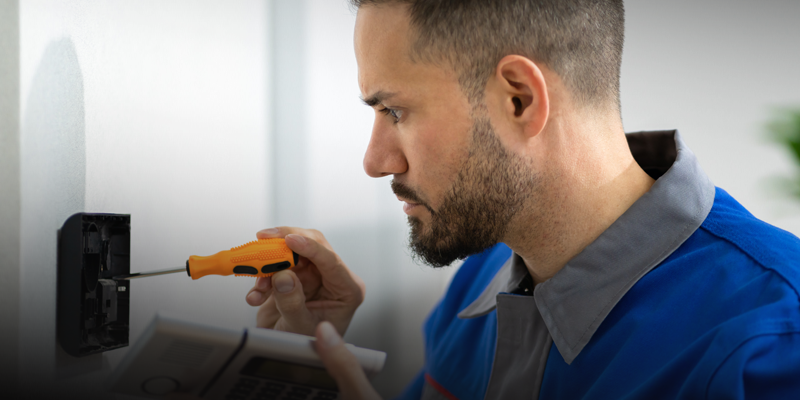 You should strongly consider hiring a professional commercial security integrator for your access control installation. A licensed security integrator will ensure that you are compliant with safety and security industry standards. A well-trained installer will also do a better installation job for your facility, which can increase the long-term performance of your business' access control system.
Why should I consider installing access control?
Here are some of the compelling reasons for securing your commercial businesses with a complete access control system:
Customizable system
Building access control is fully customizable. With the ability to tailor building access, your business can provide permission for certain users based on their roles or responsibilities.
No fear of losing keys
Keyless access control systems replace the inconvenience in maintaining a traditional key-based system. Losing keys is unheard of with newer technology solutions, and they are often more affordable than rekeying facilities.
Easy log access
The system allows you to keep track of who enters or exits your facility, and when.
Remote access
By hosting an access control system with cloud services, you to control your access anywhere and at any time via an internet connection.
Reduce costs
Using a keycard access control system is a more cost-effective solution than traditional keys in many ways. If someone loses a key card, it is much easier to replace a key card and reprogram the system than to change your building's locks. Changing the locks is a painful and expensive process because every employee will need to be issued a new key.
How long does an access system installation take?
This will vary by facility, it can take 30-60 minutes per card reader and about an hour for the door controllers, depending on how many doors you have and how much corresponding programming needs to be done. Software and database integration can take 2-5 hours.
There are five key steps to a proper access control system installation, they are:
Step 1: Design & Planning
Without a proper plan in place, it is rare to achieve your desired outcome. Naturally, access control installation requires that you have an accurate and thorough understanding of what your end goal will be before starting a project so that installation errors or unexpected cost overruns do not occur.
Analyze your access control needs and current vulnerabilities
Begin by reflecting on your business requirements. Then perform an in-depth analysis of your business's current security measures to build an access control installation plan that meets your business needs.
Here are a few questions you need to consider:
What type of credentials are you using? What format are they – mobile or traditional key cards or fobs?
How many of these credentials are issued?
Can it support your expected cardholder database? Are they capable of protecting against any duplicate IDs?
What investments have been made so far? Is the current system upgradeable?
What assets do you have that you need to protect, ranging from physical assets to important records?
Where are you storing your business data like employee records, client data, etc.?
What is your vision for the access control system? Does it need to be scalable or capable of integration to video surveillance, alarm monitoring, or other security platforms?
How many doors (both internal and external) do you have in your facility that you need to secure?
What is the square footage of your location?
What distinct types of accesses do you need to provide for your facility? (Automotive, pedestrian, etc.)?
Are there different access levels for your facility?
What are the annual costs associated with your current security system?
Designing a complete access control system
Once you have reflected on your needs and the planning is in place, it is time to start to review the core details for your access control installation, such as:
How many different types of access control readers are required?
How many distinct types of locks are required?
Do you prefer to host your access control system on-premises, or in the cloud?
Do you prefer traditional key fobs or cards, or mobile credentials for access?
What forms of authentication are required, and by how many people?
Apart from readers and locks, what other tools are required for door access control in your facility?
What access control management system is currently in use if any?
Do you want a wired or wireless access communication system?
Do you want a system that is exclusive to a single manufacturer, or do you want to design a custom open-source access control system?
Access control system cost expectations
Technology advancements provide more secure solutions for your facility. Despite technological advancements over the years, many businesses still use traditional keys. Some businesses simply cannot afford the costs of a new access control system, regardless of the eventual return on investment.
A good access control system costs between $2,000 and $10,000, with most of the cost coming from the door access equipment and components.
Electronic Locks costs run between $50 and $1,200.
Door readers and door controllers range from $100 to $3,500.
Hardware such as motion sensors is priced between $15 and $500 each.
A basic licensing fee for your access control software costs approximately $600/year.
Maintenance of the access control system costs between $0 and $50/month per door.
There are two main factors that will affect the pricing of an access control system – material costs and labor costs. All the above costs vary a bit nationally depending on your company's location but may be helpful in a budgeting exercise. Contact us today for an up-to-date quote for your facility.
Hiring professional commercial security installers
A commercial security integrator like Security 101 can assess the situation, guide you throughout the process of access control installation and help you to choose the best access control system for your business.
Step 2: Access control systems procurement
Once the planning and designing of the access control system are completed, it is time for procurement. You should send your plan to a trusted security partner like Security 101 to work with our top manufacturing partners to provide a realistic, competitive quote for the system installation. Once a design is finalized, reviewed, and agreed upon, an agreement is made for the implementation of the access control system. This agreement may also include a preventive maintenance service agreement, which provides you with priority service if and when you have issues with your access control system.
Choosing the right access control equipment
The right access control equipment is needed to protect your company's people, property, and profits, and prevent unauthorized entry into your facility. The objective for choosing the right access control equipment is to improve productivity, help in identifying administrative staff, and properly sign in legitimate visitors to your facility. Picking the right equipment from a leading access control manufacturer will help the business to scale sustainably.
Step 3: Installation – Access control hardware
At this stage of the process, the access control installation takes place. There are a few critical stages to the installation that will – if expertly managed – ensure that your system works flawlessly.
Running the wires
An initial site inspection helps our security professionals with a first impression of the location of potential devices and how to run the cables to the main controller and power board. Once the inspection is done, the work starts on running the cables from the rooms to the door controllers that control the whole operation.
Configuring system settings
When everything is set up physically and mounted, you will need to configure the board and all the hardware for the system. You will need to provide internet access to configure the system.
First, plug your panel into power and connect it directly to a computer via an ethernet cable, launch the web browser and type the IP address of your panel in the address bar. Once you log in to the web browser with the default username and password (admin, admin), the interface will take you through the necessary steps to configure. Fill out the information's currently like language, function, controller name, time zone, and any additional required information.
The live monitor can be accessible from the main page that shows you all the access events taking place in your facility like card scanned, access granted/denied, time of access, someone enters, someone exits, etc.
User authentication
Once the device and system configuration are done, you can now give users access to certain locations in your facility based on their corporate role or set of rules as per the company's security protocol and prevent unauthorized access to sensitive areas of your facility.
Step 4: Inspection & testing your new access control system
The inspection and testing take place throughout the access control installation process. It is important to test the connectivity of each system and test the power flowing through the systems to ensure the proper functioning of the entire system.
Testing each piece of hardware, the control panel, and the overall system after regular changes can reduce the risk of having to go back and find an error. Each lock should be tested properly prior to and during business hours. Trying to gain access with valid and invalid credentials will ensure the system is working as expected.
If the project involves the installation of additional systems, such as video surveillance, mass emergency notification, or visitor management you should check to make sure the new access control system works properly with the integrated systems.
Step 5: Access control onboarding and training
Once your new access control system is tested and implemented, the human part of the process comes into the picture – onboarding. The process will not take too much time, but it is important to us that all users understand how to use their access credentials.
Training is another crucial step; this helps managers to use the system correctly to avoid operational challenges. Each phase of access control installation involves specific knowledge and requires security industry expertise.
Robert Chamberlin
Rob Chamberlin is the founder and President of Security 101 – San Francisco Bay Area & Sacramento. Security 101 offers a full range of commercial security professional services to its business customers and helps to protect its client's people, ...