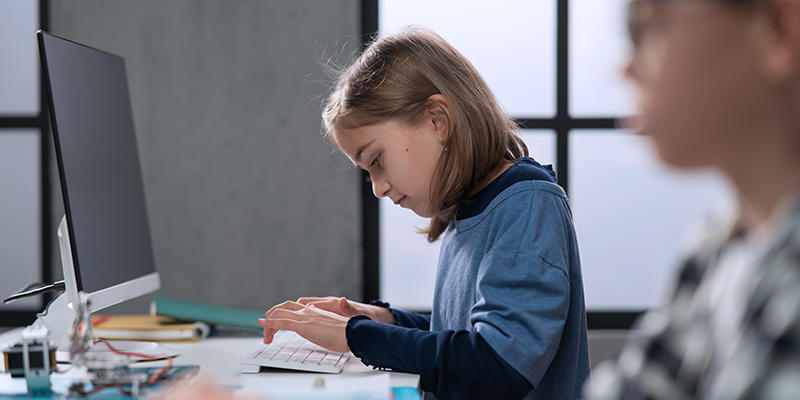 Too often, K-12 administrators focus their efforts on physical security strategies and solutions. Nevertheless, as cyberattacks are becoming more common, cybersecurity should also be a priority for schools.
The role of the cloud in K-12 security
It is clear that advances in technology have benefited the education sector. Modern cloud-based
video surveillance and access control solutions, among others, offer outstanding security advantages
to campuses.
These cloud-based technologies are quickly becoming the preferred alternative over traditional on-premise systems, since they allow remote management and monitoring, increase flexibility, have greater scalability, and because data is not hosted on a local server, they can reduce up-front expenses.
However, the cloud has also created major network security issues for schools that should be addressed promptly and proactively by implementing best safety practices. One of the most pressing challenges is avoiding network attacks on camera devices or sensors that are connected to the public cloud. A comprehensive tactic demands the cooperation of end-users and decision-makers in schools.
Physical and cybersecurity convergence
Physical security policies and solutions are essential to mitigate the threat of a data breach in K-12 schools. Access control is critical in this respect to restrict entry to IT rooms and areas where servers or student computers and laptops are stored.
In addition, by using highly secure access credentials that are difficult — or even impossible — to clone, fully trackable, and unique to each staff member, cybersecurity can be strengthened.
Certainly, cyber and physical security need to converge to eliminate redundancies. Best security results are achieved when these two important disciplines integrate.
Best strategies to limit cyber risk
Cybersecurity is a shared responsibility that requires K-12 school officials to actively participate in the hardening of their security network.
These are some effective strategies that can help:
Password management:
Passwords are a critical defense tool against hackers. They should be between 8 and 32 characters and contain at least two kinds of characters. Additionally, they must be
updated regularly.
Calibrate the system's date and time:
Good network security starts with perfect timing. Make sure all resources in the environment, from cameras to servers, have the correct time. Use Network Time Protocol (NTP) for clock synchronization of cameras and other security devices. This is indispensable to ensure proper operability and security of all equipment connected to the cloud.
Reliable remote access:
Security integrators typically recommend the appropriate software to access the video from remote locations, without exposing the camera as a public web server.
Use the latest firmware:
To mitigate the risk of a cyberattack, make sure your school uses the latest firmware.
The threat of cyberattacks in K-12 schools can be increased when security devices are connected to the cloud. This risk must be addressed with state-of-the-art physical security technologies. In addition, to prevent unnecessary exposures, leaders must implement the best cybersecurity practices.
Fortify cybersecurity
and physical security
Contact us now to discover cutting-edge solutions tailored to your K-12 school's needs. Let's work together to build a resilient security framework that safeguards your students, staff, and valuable educational resources.