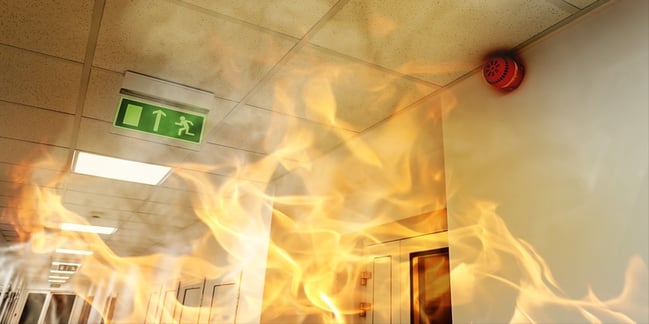 Protecting life and property in your organization is priority number one, but is your access control system up to par with fire safety measures? It may be time to check.
Fire can be one of the most damaging things that can happen to any home or business. It wipes out everything, and what is spared is usually damaged beyond repair from heat, water, or smoke. The first rule of fire safety is protecting lives, yet as security systems and access control become more advanced, they are outpacing the basic rules of safety during a fire.
When it comes to access control, organizations with thousands of employees focus on finding the most efficient and affordable method of access available, switching to the use of mobile devices that rely on their network to access secure areas. With technology speeding ahead and the advent of biometric screening, it can be easy to forget that some of the old fashioned methods of access control should be available when emergency strikes and employees need to get through doors quickly. Access control systems are designed to remain locked as long as there is a power supply and the moment that power supply is cut, the door should automatically open. If your doors are fitted with electronic locks as opposed to mechanical, you should make sure there is a fail safe way of opening the door in case the power is out but the door still fails to open. Break glass switches are also available that trigger electronically locked doors to unlock when power is out, but be mindful that devices like this are susceptible to fire damage. Whichever method you choose, be sure there is a local mechanical release method like crashbars in case all steps of your automation get damaged and fail.
One of the unintended perks of access control is the roster that forms as employees enter the building. During a fire, one of the first steps is evacuating and accounting for your employees. Having this automatic roll call may prove useful when checking on everyone's safety.
One of the oldest forms of access control, and the most dangerous when dealing with a fire, comes in the form of padlocks. Several companies have learned from bitter experience that using padlocks as a cheap alternative to properly securing doors with modern access control devices can end disastrously. They have been blamed for countless deaths and injuries. In Chicago during 2003, an administrative building lost six employees in a fire due to padlocks. If padlocks are anywhere in your place of business, you are wise to do away with them immediately. With all of the cost-effective methods of access control on the market today, there are far safer options available to secure your building in low-traffic entry points.
Protecting your employees and your business simultaneously in a fire can be a challenge so speak with your integrator to learn your access control's functionality during a fire alarm and power outage. Ensuring your assets are protected once everyone is safe will ensure that you will still have a business to return to once the damage is repaired.